Punjabi Music has changed a plethora of times there was an era where people used to listen to old Punjabi songs. If we talk about in 19 or 20 centuries song then there were many hit Punjabi songs. We all love to listen to old Punjabi song, in our life we have heard serval old songs.
Many famous Punjabi vocalists played an essential role in keeping the heritage of Punjab alive through their songs. Singer's names are Kuldeep Manak, Babbu Maan, Gurdas Mann, Wadali brothers who have made an exceptional contribution to the Punjabi music industry.
In this post, you will get to know the best old Punjabi song which you haven't listen to them. Best collection of latest Punjabi songs download.
Must read – Old Punjabi Singers
25 Old Punjabi Songs List Collection
Punjabi Film Bhangra (1959 )Song – Ambiyan de Bootiyan Te Lag Gia
This was the oldest Punjabi movie song Bhangra on YouTube. As you have seen the title on the video. The movie was released in the year 1959. Bhangra-ਭੰਗੜਾ Directed by Jugal Kishore Produced by Mulk Raj Bhakhri
Koka Tera Kuch Kuch Jasbir Jassi
This song was released on 17 Feb 2012. It means that the year we posted this article 2019 before 17 Years song had published on YouTube by T Series. Singer: Jasbir Jassi Album: Just Jassi-Koka Tera Koka. When this song was released in India Koka Tera Kuch Kuch Kenda's song made people crazy.
Sarpanch Naiyon Pulna Vichhora
Unwatched Video of all time Punjabi music industry Naiyon Pulna Vichora of Sarpanch movie. This movie was released in the era of 1970. Hope you like this video.
3. Kabza Full Song Babbu Maan| Saun Di Jhadi
This is the second song of Babbu which all the world loves it. If you haven't watched this video I recommend you watch you at Kabaza Song. Even Kabaza songs had also published in the 2012 year. Song: Kabza Singer: Babbu Maan Album: Saun Di Jhadi.
Tera Yaar Bolda Surjit Bindrakhia
Enjoy the Brillant song "Jihdey heth Gohra Modey te Donali nee, Pag bandha jeeuney morh wali nee, jihadi Pachiyaan Pindaan ch' Sardari nee, Lali Eho Jahey villi naal Yaari nee" sung by "Surjit Bindrakhia" Bindrakhia was the top Punjabi singer who made an osm song which old people like it. Song: Tera Yaar Bolda Singer: Surjit Bindrakhiya Album: Phulkari.
Gurdas Maan Apna Punjab Hove Gurdas Maan
Enjoy this amazing track of Punjabi musician Gurdas Maan's most famous celebrities in the world. The song "Be Your Punjabi Home by Shrub" is one of the best old Punjabi songs which has a raw element and is a beautiful rendition of Punjabi culture. This song had released in the year of 2011
Master Saleem Dhol Jageero Da
Watch the vid old bhangra songs of Master Saleem, Dhol Jageero Da. This video was published on 8 Aug 2012 by Movie Box Record label. Dhol Jagreeo was the first official song of Master Saleem. When this song came in the market people love this a lot.
Chitte Dand Hasno Nahin Rahnde Mohd Rafi
If you don't know about this song then I suggest you ask this song to your parents. They will tell you how popular songs were in their era. At that time people used to listen to these songs many times.
Amar Singh Chamkila & Amarjot Phele Lalkare Naal
Most of us have heard the Jodi name of Chamkia & Amajot in the era of 1950 to 1985. They both were dominating singer in Punjabi Music industry. People still love to listen to their songs nowadays. because they have made superb songs.
Munda Si Koole Patt Warga by Surnider Kaur.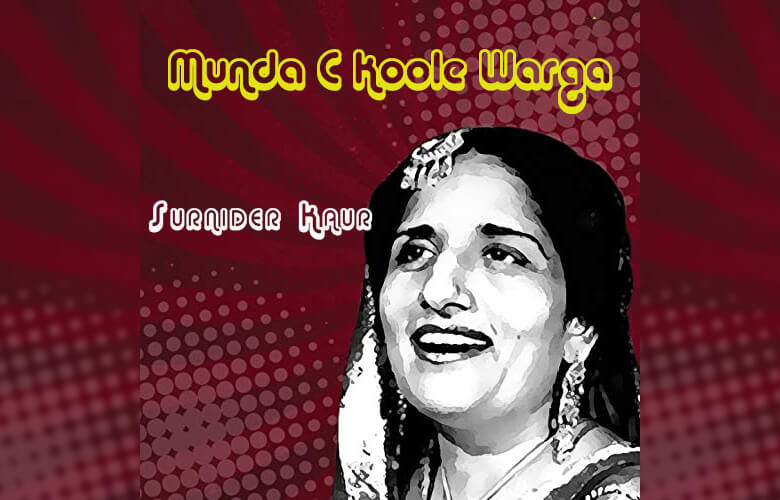 Paggan Pochviyan Diljit Dosanjh
This was the first song of Diljit Singh Dosanjh which released in the year of 2010. "Aage Pagga Pocihinye Walye Ni Bach Ke Rahi tu Mutirye" famous tagline of the song. Credit
Paggan Pochviyan(Sukhpal Sukh)
Artist Diljit Dosanjh
Album Smile
Licensed to YouTube by
Rebeat Digital GmbH (on behalf of Finetone Cassette Industries), and 3 Music Rights Societies
Harcharan Grewal Addhi Rat Takk Main
Munda Si Koole Patt Warga Surinder Kaur
Old Punjabi Duet Song 'Munda Si Koole Patt Wargaa' Artists: Ramesh Rangila & Surinder Kaur. Lyricist: Didar Sandhu. This song had published on 9 April 2013.'Munda Si Kolle Patt Warga'
Yaari Jatt Di Gur Nalo Ishq Mitha Punjabi Old Song
This was the original Punjabi song Gur Nalo Ishq Mitha of Yari Jatt Di. The song which we are listening to nowadays by Honey Singh Remix song. The idea had taken from this song. "Gur Nalo Ishq Mitha Ho Ho' We all the Ho Ho background.
Bara Karara Pudna- k.deep and Jagmohan Kaur
Classical hit song Bara Kara Pudna. Lyrics by K. Deep and Jagmohan Kaur. The perfect song, as always. This song is all about argument and of each other.
Kala Doriya Surinder Kaur & Parkash Kaur
Kala Doriya,, Surinder Kaur & Parkash Kaur Evergreen Punjabi Folk Song.
Jassi Sohal – Jinde KAMAL
Ki Samjaiye Amrinder Gill Punjabi Songs
Mittran Di Chhatri [Full Song] – Pyass
Sanu Tedi Tedi Takdi Tu [Full Song] Mukhda Dekh Ke
These all are the old Punjabi songs list which you like. If you want to add your favorite Punjabi old song in this list just comment on your song name. We will be happy to add your song in our old Punjabi songs list.