Many people daily search for Spices Name in Punjabi. If you are also one of them, then you are right spot. This will help users who want to explore the Punjabi language. I understand some beginners think ਮਸਾਲੇ ਦਾ ਨਾਮ ਪੰਜਾਬੀ ਵਿੱਚ and similar to English Spices, but it's not quite identical.
There is a huge difference when you start reading about learning the Punjabi Spices' names. You will automatically understand it has a big difference. If you feel any difficulty while reading those names in everyday language Then feel free to ask us in the comment box. We have also added a video for you where you quickly understand how to speak Spices Name in Punjabi. Also read – Punjabi Muhavare and List of Cities In Punjab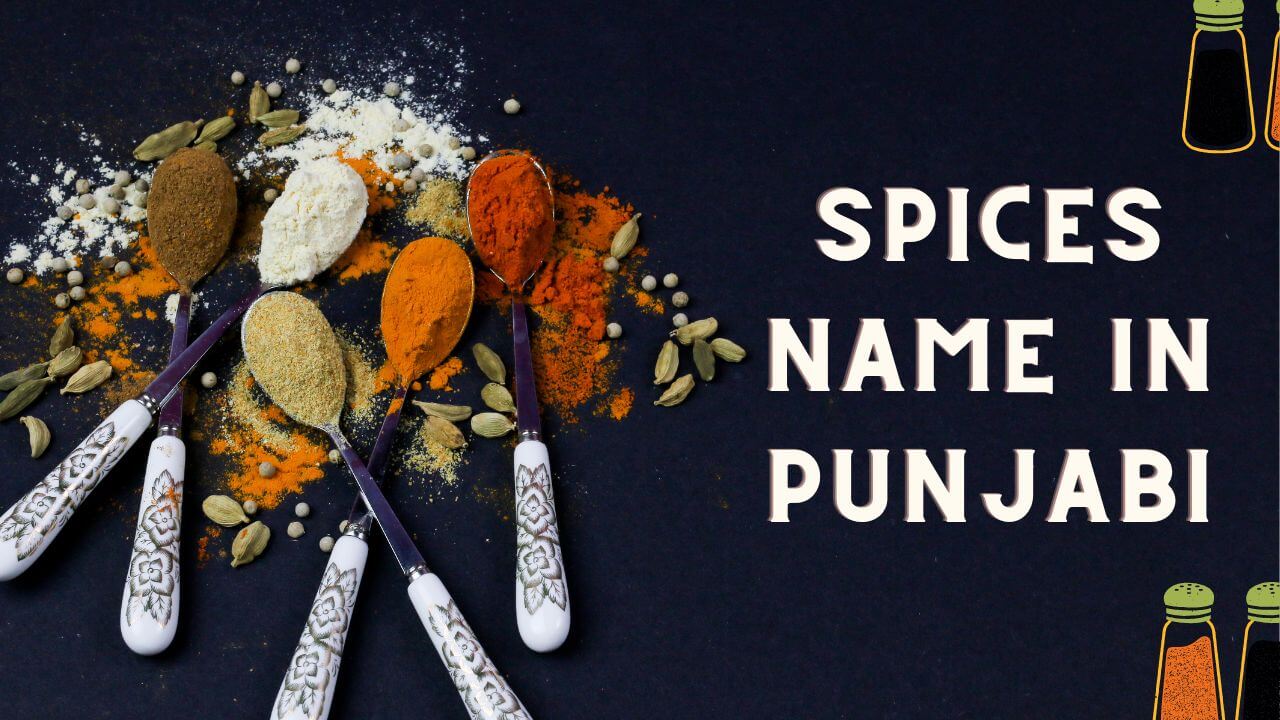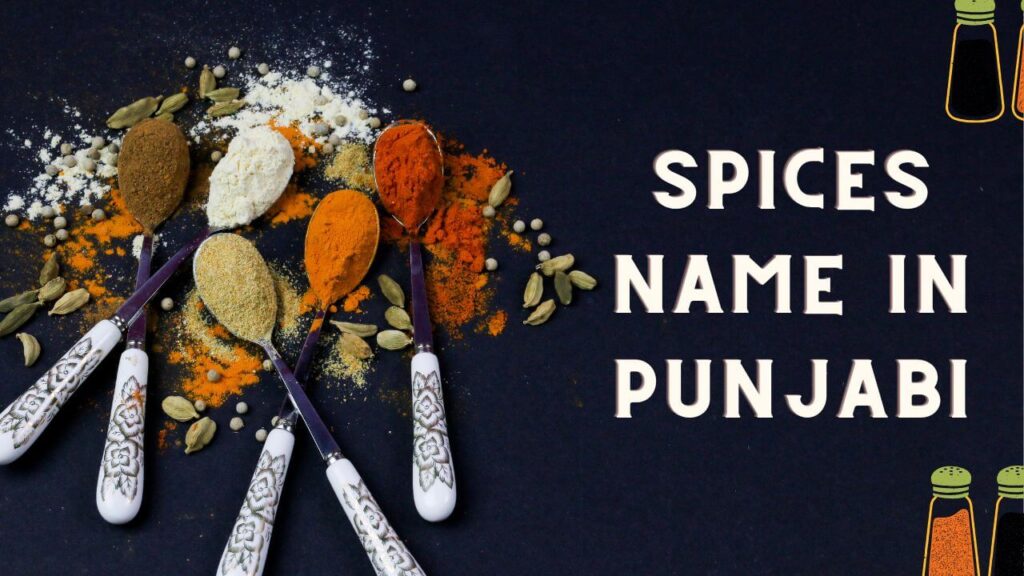 Most people who are learning new languages every year don't know what spices are. Let us tell you what spices mean to make food tasty or Indian languages called sabzi; we add spices such as dried seeds, leaves, roots, bark, fruits, etc.
You Might be aware if you are above 12 years, there are plenty of types of spices available in the world. Which main goal is to make food sumptuous for people. Some countries use a bitter type of spice to make food tastier. Depending on the countries where you are having your food, you will get a taste to form food.
In our daily routine, we eat food with spices but there are only a few of them know the correct name of spices no worries we have made a complete table with more than 100 + Spices Name In Punjabi and English. Just see the table below to know more about it.
Spices Name In Punjabi (ਮਸਾਲੇ ਦਾ ਨਾਮ ਪੰਜਾਬੀ ਵਿੱਚ) | List of Spices Names
| | |
| --- | --- |
| English Names of Spices | Punjabi Names of Spices |
| Salt | ਲੂਣ |
| Black Salt | ਕਾਲਾ ਲੂਣ |
| Turmeric | ਹਲਦੀ |
| Red Chilli Pepper | ਲਾਲ ਮਿਰਚ |
| Onion Powder | ਪਿਆਜ਼ ਪਾਊਡਰ |
| Garlic | ਲਸਣ |
| Saffron | ਕੇਸਰ |
| Pomegranate seeds powder | ਅਨਾਰ ਦੇ ਬੀਜ ਪਾਊਡਰ |
| Tamarind | ਇਮਲੀ |
| Mustard Seed | ਰਾਈ, ਸਰਸੋਂ |
| Mustard Oil | ਸਰ੍ਹੋਂ ਦਾ ਤੇਲ |
| Asafoetida | ਹਿੰਗ |
| Cumin Seed | ਜੀਰਾ |
| Fenugreek Seed | ਮੇਥੀ |
| Coriander Seed | ਧਨੀਆ |
| Cardamom | ਇਲਾਇਚੀ |
| Cinnamon | ਦਾਲਚੀਨੀ |
| Poppy Seed | ਖਸ-ਖਸ |
| Cloves | ਲੌਂਗ |
| Peppercorns | ਕਾਲੀ ਮਿਰਚ |
| Saffron | ਕੇਸਰ |
| Fennel Seed | ਸੌਂਫ |
| Dried Ginger | ਸੁੰਢ |
| Bay Leaf | ਤੇਜ ਪੱਤਾ |
| Nutmeg | ਜੈਫਲ |
| Spice Mixture | ਗਰਮ ਮਸਾਲਾ |
| Sour Dried Mango Powder | ਆਮਚੂਰ |
| Carom Seed | ਅਜਵੈਨ |
| Curry Leaf | ਕੜ੍ਹੀ ਪੱਤਾ |
| Dry Coconut | ਸੁੱਕਾ ਨਾਰੀਅਲ |
Spices Name List Punjabi Video Guide
If you want to learn the spice's name in Punjabi a video for better understanding all images for you. Watch the full video to know more about spices in the Punjabi language.
It included the full list of spices used in Punjabi including photographs (ਮਸਾਲੇ ਦਾ ਨਾਮ ਪੰਜਾਬੀ ਵਿੱਚ). We are aware of the diverse types of food items that are prepared and consumed all over the world. Each food item comes with a distinct flavor due to the method of preparation used for every food item and the ingredients added to it differ. However, spices are common ingredients that make up an important component of all food items.
Conclusion
I hope you will enjoy this article regarding the full list of spices' names and names of the spices in Punjabi and English, along with pictures. It is essential to know the full range of names of spices in Punjabi and English. I hope that this article will assist you in getting to learn the spice's name.
This article will provide the names of all names of spices, the Indian spices list with images, including 10, 15, 20, 20, 30, and 50 names of spices In Hindi and English (ਮਸਾਲੇ ਦਾ ਨਾਮ ਪੰਜਾਬੀ ਵਿੱਚ). In conclusion, I'd like to say that if you liked this post on the name of spices, then please share this article via Facebook and Twitter with family and friends as well.