Most people are using nowadays social media platforms every day. You must have watched or heard in a video the word Godi Media but when you listen to Godi Media word your brain got confused about what it is meaning and what it stands for?
In this post, you will clear all your question which you have in your mind related to Godi Media so let get started without any delay.
What is the meaning of Godi Media?
India is the largest democratic country in the world where everyone has the right to speak and If they do not agree or disagree with the decision or its implications, write to support or criticize the government. First, we'll speak the word "Godi" a Hindi term that means the lap.
Godi Media meaning is used for journalists, anchors, and media channels who spread positives news primarily especially for the government is ruling and create their agenda rather than presenting news and facts impartially.
That's why this called Godi Media. But did you know How did this word first come in social media channels? Well, if you remember Farmers Protest is going on in Delhi Borders. In the beginning of the Farmers protest which was going on only in Punjab State.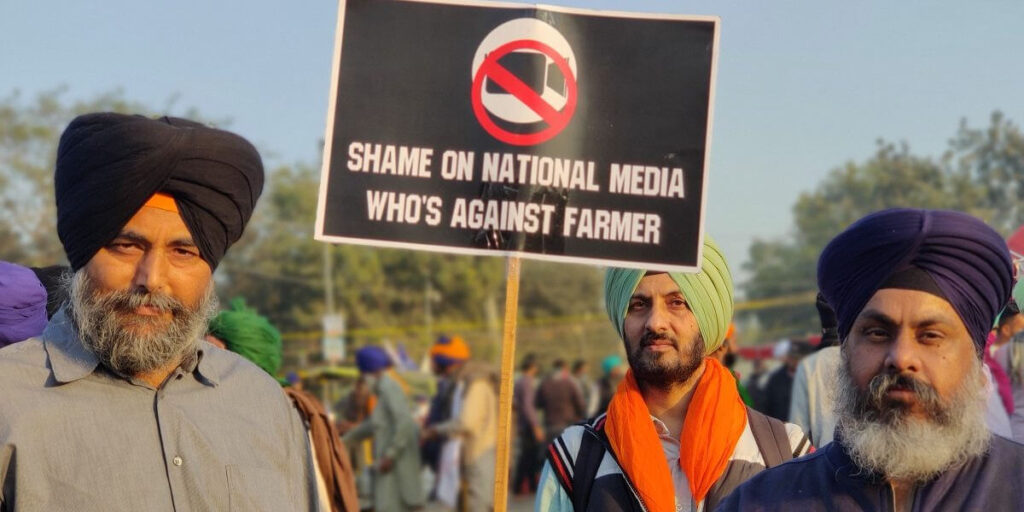 After 2 to 3 months when Kisan Anodal Punjab state where The BJP Party were not listening the demand of Farmers. In between those months where only state news media covers all the news which happened in Punjab state.
A few months later when the Farmers reached Delhi Borders at the time only national media covered the news of the Farmers Protest. But at the time also National Media also spread the news those who come in Delhi Borders there aren't farmers they are terrorists and Khalistan supporters.
When India National Media asks farmers, those who reached Delhi borders what are your demands against new Farmer's Laws. One of the people replied – Godi media Where were you when we were protesting in Punjab! (गोडी मीडिया जब आप पंजाब में आंदोलन कर रहे थे तब आप कहां थे?) Deep Sidhu Shared An Emotional Video. Said I've Been Abandoned
This is how the word Godi Media start getting viral on social media channels and people really support that word. I hope you get your answer.
Godi Media Anchors Name List
I have mentioned the anchors name list of Godi Media. If you support farmers then I would recommend you to don't watch their shows and boycott them.
1 Sudhir Chaudhary (Zee News)
Sudhir Chaudhary is the chief editor of Zee News Channel. He had awarded the year 2006 for Ramnath Goenka Excellence in Journalism Awards.
But his show's DNA was declared on his show that his channel forever shows the truth and tells you the right information news. Most of the time Sudhir Chaudhary DNA show present, when Farmers protest started in Delhi Borders only in spread positive news support of the ruling party (BJP).
2 Arnab Goswami (Republic TV)
Arnab Goswami is the owner of Republic TV. He had awarded the year 2008 for Ramnath Goenka Excellence in Journalism Awards.
His show's Puchta Hai Bharat was declared on his show that his channel forever shows the answer all the nations question and tells you the right correct information news. Most of the time Arnab Goswami, Puchta Hai Bharat show present, when Farmers protest started in Delhi Borders only in spread positive news support of the ruling party (BJP).
3 Anjana Om Kashyap (Aaj Tak)
Anjana Om Kashyap is Executive Editor, Aajtak. She had won Awarded for Best Anchor by ITA (Indian Television Academy) Awards November 1st, 2014, Awarded for Best Anchor by IMWA Awards May 1st, 2015 and many more awards.
On Her shows Halla Boll, Anjana Om Kashyap just spares 10 minutes of her 54-minute show to include the farmer protests. The rest of the show, titled "Desh virodhi beti ka poora sach", was dedicated to activist Shehla Rashid's family problems, which in Kashyap's point of view is quite an important issue than thousands of farmers protesting at Delhi's door.
4 Rubika Liyaquat (ABP News)
Rubika Liyaquat is Tv Journalist of ABP News. Earlier, ABP News had reported on non-parties, but a few years ago, when the BJP government came to power, it became a supporter of the BJP.
It started when the Modi government in its masterstroke show complained to the BJP through some ABP journalists including Poonia Prasoon Vajpayee and Abhishek Sharma. After taking action against these journalists of the channel, Rubika Liaquat became the Commander-in-Chief of its news anchor. Former Zee Anchor anchor Rubica joined ABP News in 2018.
5 Rajat Sharma (India TV)
India TV is too similar. It covers a lot of news that makes headlines. It prepares not to give fake news but prefers to present news according to its political influence. When Sharma became shameful when questioned about the integrity of his channel in the United States due to his friendship with him.
According to data analyst Amol Raj Pandey, when Sharma was criticized out of his Filmcity office by Centurion. His modern office was fully supported by the BJP. India TV then continued to function as a BJP publicity unit.
He continues on to tell that this is the most essential aim of the show – he had awarded the Padma Bhushan for literature, although he never wrote a literary piece. However, he wrote a vision for the BJP during his election campaign.
6 Deepak Chaurasia (News Nation)
Deepak Chaurasia is Consulting Editor in News Nation TV Channel. He had awarded in Giants International Award in the year 2013.
Deepak Chaurasia is rolling towards the BJP and is known as a puppet of Modi. Portuguese politician and political scientist Bruno Max compared Chaurasia's journalism to Fox News, which had been criticized for moving outspoken in support of Republicans and President Donald Trump.
Godi Media Channels Name
Here are mentioned below Godi Media Channels Name list.
Republic TV
News 18
Aaj Tak
News Nation
ABP News
Zee News
Times Now
Republic Bharat
India Today
Sudarshan News
India TV
Conclusion
I hope you get your all answers related to Godi Media. If you feel this information useful feel free to share it.