10 Sikh Guru Names – The Sikh Gurus are the 10 human beings who have clarified the path of spirituality for Sikhs. They are honored in the Sikh religion and are considered to be the divine messengers of Waheguru. Who is understood in Sikhism to be both formless infinity and also a personal God?
I know many of you are searching for Sikh Guru Names in Punjabi with their full history. We have mentioned ten Sikh Guru names for you just read the post below for more information about them.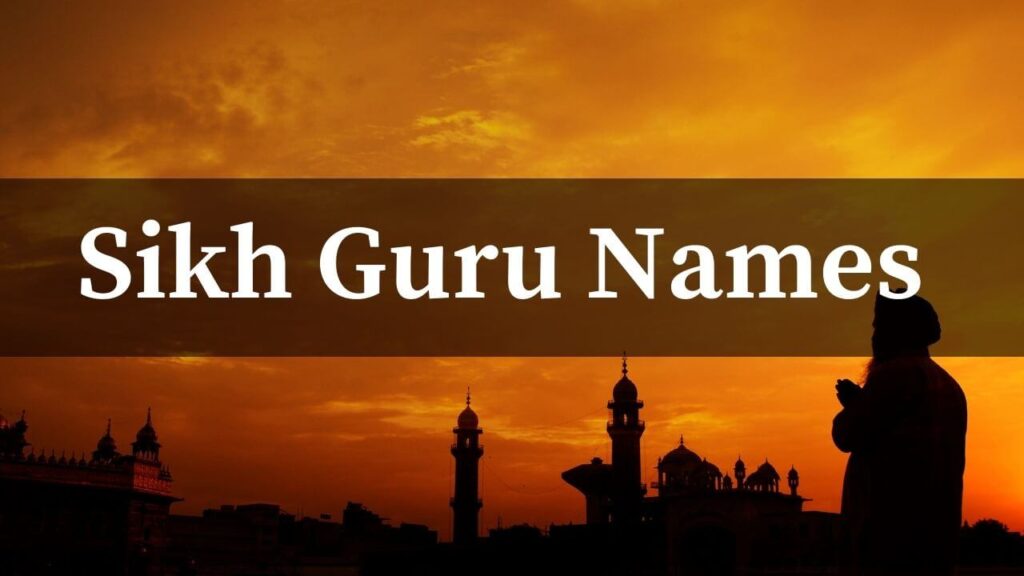 List of 10 Sikh Guru Names
1. Guru Nanak Dev Ji (1469-1539) 
Guru Nanak Dev Ji, the founder of the Sikh religion, was the first in a line of ten gurus whose father Mehta Kalian Das Bedi (also known as Mehta Kalu Bedi) belonged to the Khatri caste of Patwari who served Rai Bular, the local Muslim leader.
The young Guru Nanak Dev Ji was born in 1469 in Rai Bhoi di Talwandi village (also known as Nankana Sahib) in Punjab to a family of the Hindu Khatri caste. On one side of the house where Nanak Khatris, the mystical poet and founder of Sikhism, was born, stood a famous shrine named Nankanas Sahib. Also, Read Guru Nanak Dev Ji Gurpurab Jayanti Wishes
Guru Nanak, like other Sikh gurus, emphasized bhakti (love, devotion, and worship) and taught that the spiritual life of the mundane master of the house and life are intertwined. Guru Nanak Dev Ji was the first Sikh guru whose teachings of equality, brotherly love, goodness, and virtue inspired humanity, compassion, and spirituality to humanity.
Guru Nanak traveled the globe, including to Mecca, Tibet, Kashmir, Bengal, Bengal, and Manipur, on the feet of his Muslim companion and friend Bhai Mardana, to Rome to spread the holy message.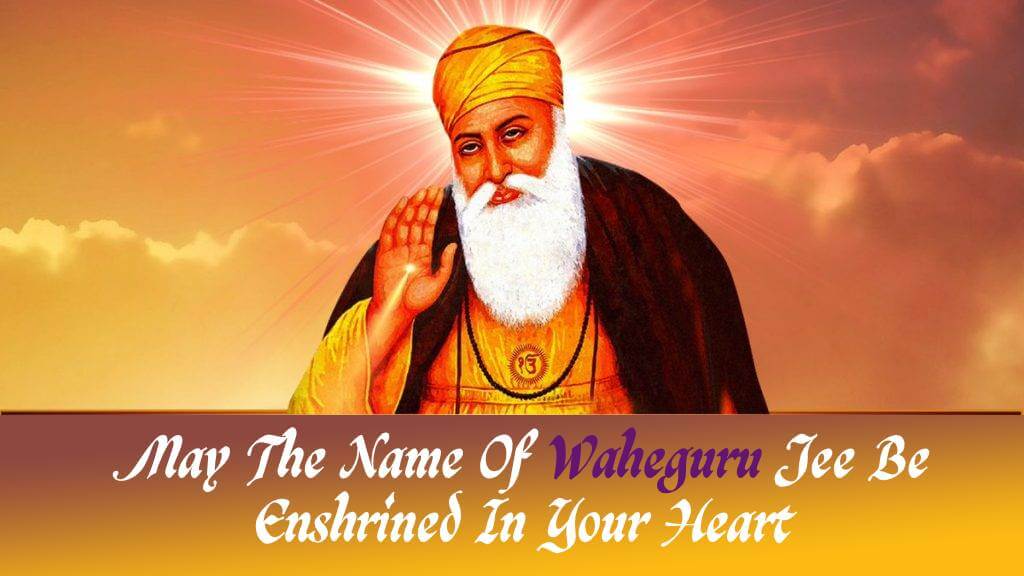 2. Guru Angad Dev Ji (1504-1552)
Guru Angad Dev Ji was the second Guru in Sikhism History and was born in 1504. The origin of the Punjabi alphabet is unclear, but it is clear that Guru Angad from 1541 onwards popularized the use of a simplified Gurumukhi script among Sikhs. This helped the early Sikh community to distance themselves from the religious tradition of Sanskrit.
He popularized the use of a simplified alphabet by changing the ancient Punjabi characters into what is now known as Gurmukhi script and wrote many verses, including Guru Granth Sahib. The new alphabet, known as Gurmukhi, became popular and began to be used by people in general.
Guru Angad Dev Ji is a spiritual guru who offers guidance on various issues. He believes that God has created everything for a purpose and that we should utilize the resources at our disposal to the best of our abilities. His first book 'The 8 Laws Of Wealth Creation' is a practical guide to help you create wealth in all aspects of life.
3. Guru Amar Das Dev Ji (1479-1574)
Guru Amar Das was born in 1479 in Khadur, India, and died in Goindwal in 1574. At a late age, the third Sikh Guru (1522-74) was appointed and is known for dividing Punjab into administrative districts and for promoting missionary work to spread the faith. Guru Nanak Dev founded the Sikh religion during the Mughal rule of India, which flourished.
Guru Amar Das is the founder of the Sikh religion. He is popularly believed to be the third spiritual guru by Sikhs, succeeding Guru Nanak and Guru Angad.
Guru Amar Das began the tradition of appointing a manji (zone of religious administration) and the appointment of a chief Sangatias introduced Dasvandh (tenth income recovery system named after him) to pool the religious resources of the community and introduced the famous langar tradition of Sikhism, where there was no discrimination, free meals or communal seats. 
4. Guru Ram Das Dev Ji (1534-1581)
Gurus Ram Das, the 4th Guru of Sikhs, is affectionately known as Lord of Miracles. By singing this mantra you can experience your own divinity and feel the flow of the infinite within you. Sikh Dharma communities around the world expect guidance, love, health and connection to the divine from Gurus Ram Das
He wanted to see what would happen to the other sect, the Nanak Panthees, which came from his father Guru Nanak. His eldest son Prithi Chand initially denied this, but at the insistence of his father and as a result of his refusal to obey him, he confessed his betrayal and wrote the two messages
5. Guru Arjan Dev Ji (1563-1606)
Guru Arjan Dev Ji, the fifth spiritual guru of the Sikhs, was an accomplished poet. He authored the Sri Guru Granth Sahib, the Sikh holy scripture. It's believed that after his death, Guru Ji left his compositions to be discovered by future generations. This ancient treasure is now open to anyone with an internet connection, and you can find it all here at gurudevji.com
6. Guru Hargobind Dev Ji (1595-1644)
Guru Hargobind Dev Ji was the sikth Guru in Sikhism History and was born in 1595. , He was a Punjabi saint and the spiritual preacher who was born to Mata Nihal Kaur Ji and Baba Gurditta Ji
Guru Hargobind Dev Ji is the spiritual guru who has all the answers to your life's questions. He can help you with problems in your relationships, career, or any other area of life. Millions of people have already benefited from his wisdom.
7. Guru Har Rai Dev Ji (1630-1661)
The seventh Guru of the Sikh faith was born on 16 January 1630 in Kiratpur in what is now Ropar district in Punjab. He was the son of Baba Gurditta and the grandson of Guru Hargobind Nana
Guru Har Rai Dev Ji is a spiritual guru, who has taught tens of thousands of people how to live an enlightened life by following the principle of 'love all, hate none' – which he promotes as the key to success. His teachings are available in book form, video form, and come to you through our global network of certified practitioners.
8. Guru Har Krishan Dev Ji (1656-1664)
The eighth guru of the Sikhs, Guru Har Krishan ji was born in Guru Ghar, home of the Sikh gurus, on July 7th, 1656. He was the son of Guru Har Rai ji (seventh Guru of Sikhs) and his wife Bibi Sulakhni, also known as Mata Krishan Kaur.
Guru Harkrishan Ji Guruship was succeeded by his older brother Ram Rai, who in consultation with Emperor Aurangzeb, Ram Rai complained to the Emperor that he was discriminated against by his father for his loyalty to the Mughals and the Emperor complained that he did not receive his due share of ancestral property.
He also complained to Emperor Aurengzeb in Delhi that he was discriminated against because of his loyalty to the Emperor and that he had not received his dues and share of his father's property. He believed that anyone who tried miracles tried to interfere with the laws of God. Guru Har Krishan Dev Ji is said to have died when he contracted smallpox, which was cured by his followers. 
9. Guru Tegh Bahadur Dev Ji (1621-1675)
On 1 April comes the birthday of Guru Tegh Bahadur, the ninth Guru of the Sikh religion, who is considered the protector of Sikhs and Hindus against the laws that forced Sikh Hindus to Islam. He is known for the protection he gave Hindus from the laws in the 17th century. He died on this day, November 24, 1675. 
Guru Tegh Bahadur came into conflict with the Mughal authorities for providing help and shelter to Hindu holy men in Kashmir who sought his help after Emperor Aurangzeb ordered them to embrace Islam. 
10. Guru Gobind Singh Dev Ji (1666-1708)
Guru Gobind Singh was the tenth and last Sikh guru, spiritual leader, philosopher, poet, and a great warrior. Born Gobind Rai, he emerged at the age of nine as the tenth Sikh Guru after his father Guru Tegh Bahadur, the ninth Sikh guru, was beheaded on orders of the Mughal Emperor Aurangzeb after he refused to convert to Islam.
Guru Gobin Singh ji shaped the Sikh religion into its present form through the institutions of the Khalsa Brotherhood and the completion of sacred scriptures (Guru Granth Sahib ji) as a divine messenger, warrior, poet and philosopher.
10 Sikh Guru Names in Punjabi
ਗੁਰੂ ਨਾਨਕ (1469-1539)
ਗੁਰੂ ਅੰਗਦ (1504-1552)
ਗੁਰੂ ਅਮਰਦਾਸ ਜੀ (1479-1574)
ਗੁਰੂ ਰਾਮਦਾਸ (1534-1581)
ਗੁਰੂ ਅਰਜਨ ਦੇਵ ਜੀ (1563-1606)
ਗੁਰੂ ਹਰਗੋਬਿੰਦ (1595-1644)
ਗੁਰੂ ਹਰਿਰਾਇ (1630-1661)
ਗੁਰੂ ਹਰਿਕ੍ਰਿਸ਼ਨ (1656-1664)
ਗੁਰੂ ਤੇਗ ਬਹਾਦਰ (1621-1675)
ਗੁਰੂ ਗੋਬਿੰਦ ਸਿੰਘ (1666-1708)
I hope you like this post about 10 Sikh Guru Names including their important history. If you have a question or need msg to make changes in this post do let us know.