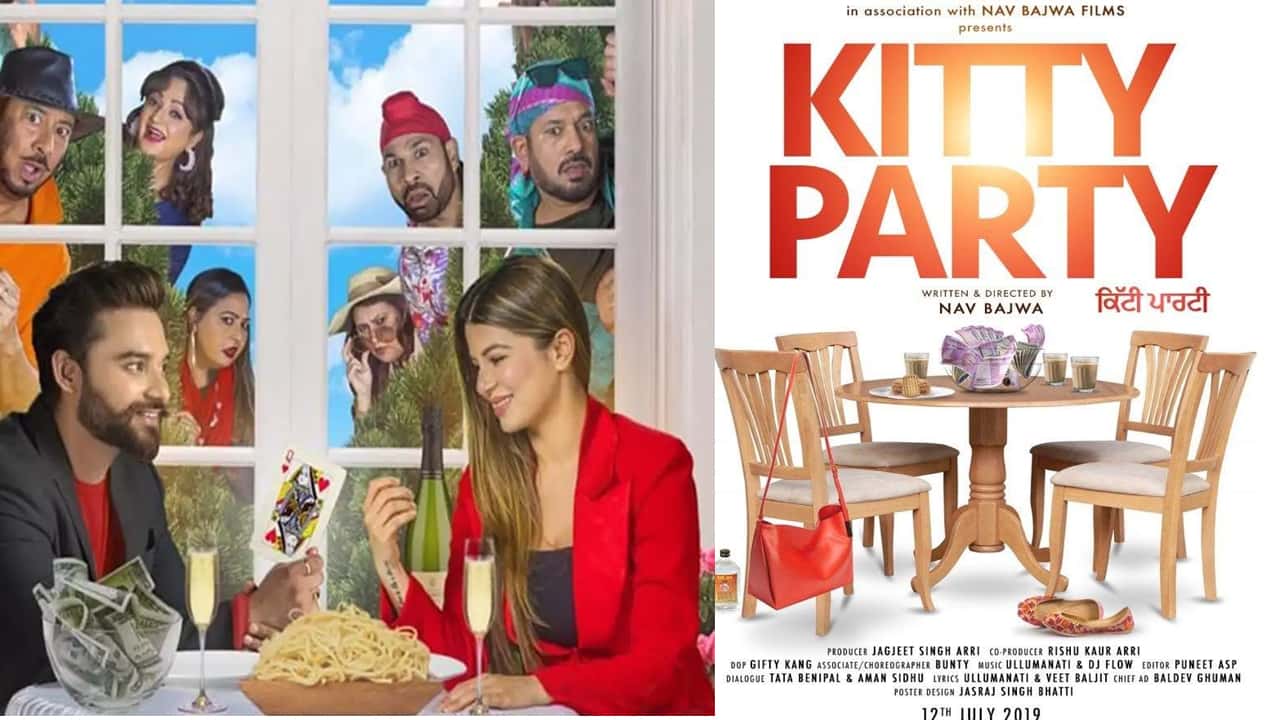 This year we have seen a plethora of Punjabi movies have released and the year is going to end but Punjabi movies are on the top of the world. Punjabi Movie director is turned with his new mvoie Kitty Party where he plays in the lead role of this movie.
Here is a short overview of the Punjabi movie kitty Party you may check it.
A new Punjabi movie has been announced which will see the director turned to actor Nav Bajwa and Kainaat Arora in lead roles. We also get see the prominent Punjabi actor Jaswinder Bhalla and Gurpreet Ghuggi in this movie. Kitty Party is produced by Jagjit Singh Arri and will be released under the banner Arri Production House. Kitty Party scheduled to be released on 13 Dec 2019
We see actresses complaining that there are not many experimental roles or movie-oriented films in the Punjabi industry, but now things seem to be changing. Actor-director-producer Nav Bajwa has just announced a project that was not really expected.
he recently revealed the look of her upcoming movie titled Kitty Party. The film is being produced under the banner of Arri Production House and new Bajwa films. The movie was written and directed by Nav Bajwa, and the dialogue is written by Tata Benipal and Aman Sidhu. The film is set to release on December 13, 2019.
Talking to us about this unique concept, Naveen Bajwa shared, "I was doing something different. I wanted to work on an interesting project that would have a wonderful story to tell. This is my version of a strange story that many of us will relate to. Even the film's characters are believable. His actions, his words, and his thinking are inspired by our daily life. I hope the product spreads well and people will enjoy this female drama based drama. "
Kitty Party Punjabi Movie Cast
Here is the complete list of Kitty Party Punjabi Movie Star Cast
Movie – Kitty Party
Production House- Arri Production House
Writer & Director – Navv Bajwa
Produced By- Jagjit Singh Arri
STARRING- Navv Bajwa, Kainaat Arora, Gurpreet Ghugi, Jaswinder Bhalla, Harby Sangha, Upsana Singh, Rana Ranbir, Neelu Kohli, Manni Boparai, Anita Devgan, Satwant Kaur, Preeto, Surinder Bath
Co-Producer – Rishu Kaur Arri
Film Marketing: Big Bash Entertainment
PR: Smile Entertainers
Online Promotion: Big Bash Entertainment
Account & Finance – Yashpal Singh, H.S Bamra & Surinder Mohan
Story, Screenplay- Navv Bajwa
Dialogue Writer – Tata Benipal & Aman Sidhu
DOP – Gifty Kang
Editor – Puneet ASP
Music – Ullumanati & DJ Flow
Lyrics – – Ullumanati & Veet Baljit
Singers – Ranjit Bawa, Noora Sisters, Mohit Chauhan, Naman Hanjra, Ninja, Harshdeep Kaur, Virus.
Action Director – Vishal Bhargav
Background Score – Salil Amrute (U.K)
Sound Engineer- Kuljinder Bains
Costume Designer- Manpreet Kaur
Chief Assistant Director – Baldev Ghuman & Gaurav Bhalla
Art Director- Sonu
Casting Director- Dinesh Soi
Chorographer- Bunty & David
Line Producer – Antariksh
Post Production – Artha Film Studios
Visual Promotions – Hashtag Studios
Chd Production Controller- Manjit Singh, Navjot Singh
Publicity Designer- Jasraj Bhatti
Label: R R Records
These all people who participated to make this move so osm. You have watched the trailer now it's time to do you like this trailer or not?
Kinat Arora made his Bollywood debut with the Punjabi movie Abscondence. In this film, she has been working with Gippy Grewal and since then, she has appeared in Jaga Zinda e. The film is set to release on November 22, 2019, and we hope the Kitty Party will perform well at the Punjabi film box office.
Kitty Party Movie Review
Kitty Party Movie fully packed with comedy and thriller comedy punches. As the movie trailer has got a lot of popularity. Where Nav Bajwa played a driver in the movie. Our Punjabi prominent actors Gurpreet Ghuugi, Jaswinder Bhalla and Rana Ranbir are also playing a crucial role. The trailer begins with a lottery junction where Gurpreet Ghuggi and Jaswinder wife's greedy to make more money.
They get caught in the trap of Kanan Arora, which she had done in the movie Punjabi filmmakers are now giving updates on the trailer release dates for their upcoming films. And today, Naveen Bajwa, a leading actor of the upcoming film 'Kitty Party', has announced from his social media handle that his movie.
We wish to all the team members of Kitty Party movie will be rock on theater.