Challa Mud Ke Nahi Aaya Review: Finally, the much-awaited movie Challa Mud Ke Nahi Aaya has been released in theaters and I faced a lot of difficulties in getting tickets in Cinema Halls. There was a lot of energy and buzz in the theater for the film. And why not? Fans always have high expectations from Amarinder's films as he does very few films in a year and 'Challa Mud Ke Nahi Aaya Movie Review' becomes even more special as it marks the beginning of Amrinder Gill's historic journey as a director.
Directed by: Amrinder Gill
Written by: Amberdeep Singh
Starring: Amrinder Gill,, Sargun Mehta, Sydney Eberwein, Binnu Dhillon, Karamjit Anmol, Raj Kakra and others.
Background Score: Lowkey
Lyrics: Raj Kakra, Bir Singh, Hardeep Singh Mann
Music: Lowkey
Story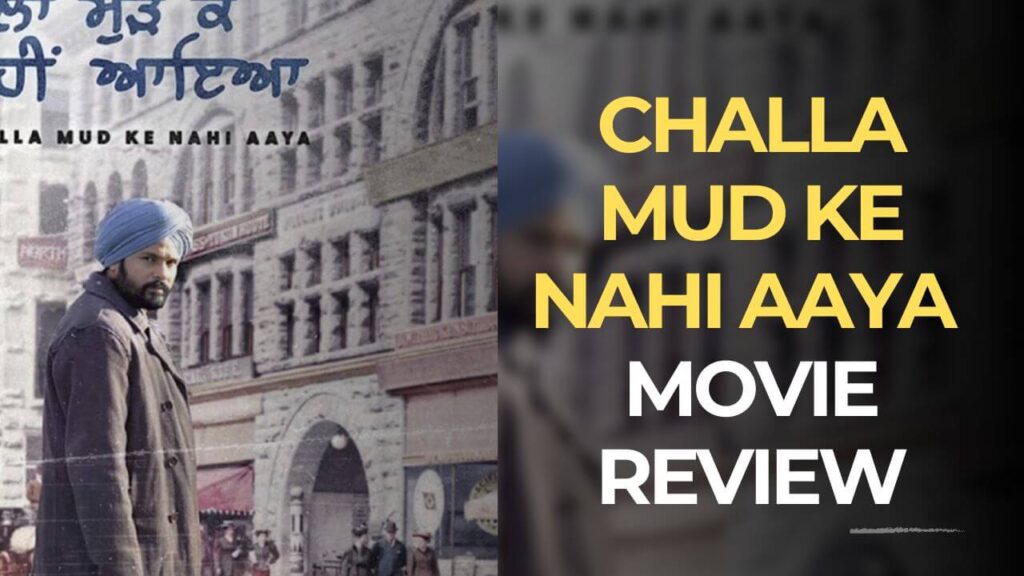 The story is written by Amberdeep Singh, the film is set in the 1900s when the barter system was at its peak and a household where currency was kept was considered very prosperous. It is based on true events when our Punjabis immigrated to Canada in search of jobs and were overworked and paid less. Everything is well written on it.
Also, Read – Shahi Majra Trailer Review and Good Luck Jerry Movie Review
As you have watched the Challa Mud Ke Nahi Aaya trailer in that backdrop of two locations. One is located in a backward village in Punjab and the other is located in Canada. The film depicts the story and journey of both places and how a man actually has to leave home and go abroad to earn a living.
Challa Mud Ke Nahi Aaya Review
When Amrinder Gill (Challa) arrives abroad in Canada, where his travels abroad are a different world altogether, he is a happy man who remains calm and never forgets his hometown. He forced to work for money. He joins many other people abroad and faces many problems while resting. We also get to see the journey of 7-8 other people including Karamjit Anmol and Raj Kakra.
In the end, it's up to you to see if this trick actually backfires because it's cute enough to end on a positive note.
It is to be noted that in this family cast, no swearing has been used in the film. It has a standard and wholesome comedy. Some of the jokes, spontaneous dialogues and one-liners were so funny that I couldn't stop laughing.
Amberdeep's specialty in storytelling is that he keeps the audience hooked through multiple subplots in a single story. Through these sub-plots, he tries to convey a message to the audience and entertains them, thus, making it a complete story.
A subplot tells the story of the women who wore the veil and the beautiful innocent stories associated with them are there for your entertainment.
We also see Sargun Mehta in the film but unfortunately, he does not have a role. After the interval, they have a small part, but I am happy to see Amrinder Gill and Sargun back on screen after such a long time.
We also see the character of 'Bella' was really cute. She has an admirable, touching, and relatable personality. We usually get to see how foreign girls fall in love with Punjabi boys and learn Punjabi. So, it's fun to watch cute things like learning Oriya
Visuals
The well-seen attention to detail was good in many parts of the film. The visual teamwork works heavily on the looks of the film to give the film a retro feel in high quality. But in some areas, it looked like colors were missing (talking about the camera's RAW file which is less saturated).
Songs and Background Music
Most of the songs were sung by Amrinder Gill himself (Bhu Sui Hai….) and all were well written and placed according to the situation depicted in the film.