Maujaan Hi Maujaan Review: The wait is nearly over for Gippy Grewal, Binnu Dhillon, and Karamjit Anmol Moive Maujaan Hi Maujaan is finally hitting the silver screens in a full-blown entertainment offering that is full of comedy, drama, laughter as well as valuable lessons and more. Gippy Grewal and Binnu Dhillon's movie Carry on Jatta 3 are released worldwide in cinema theaters.
Trend Punjabi team has watched it and prepared a thorough review, giving you the right details with fewer spoilers which will convince your mind to stream it on large screens immediately.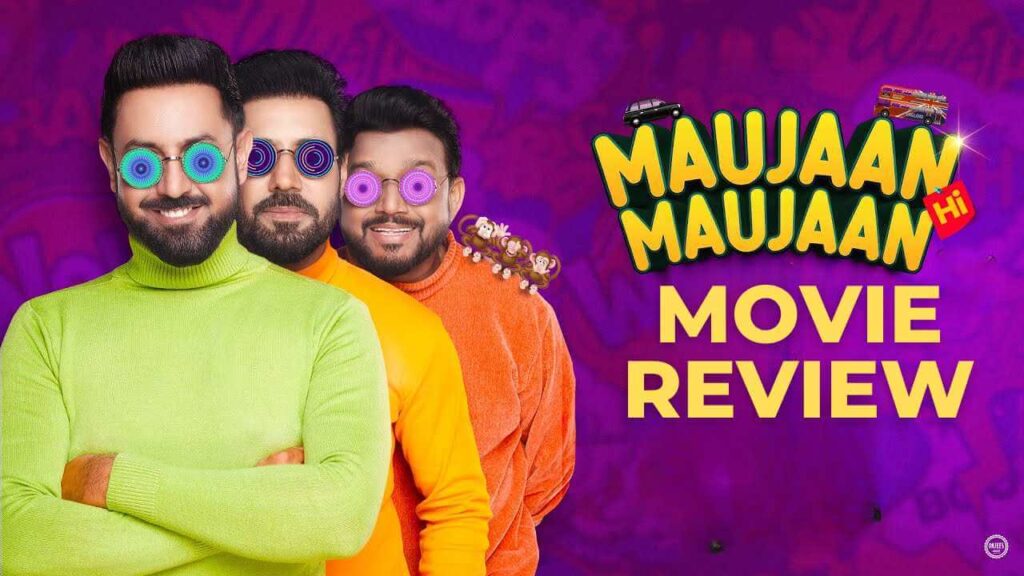 Star Cast: Gippy Grewal, Binnu Dhillon, Tanu Grewal, Hashneen Chauhan, Karamjit Anmol.
Director: Smeep Kang 
Rating: 4.2
Maujaan Hi Maujaan Movie Review
Story & Screenplay 
This is a story about four siblings. There are three brothers and one sibling. Three of the four brothers are exceptionally gifted, while one brother is deaf and one is dumb. The fourth is blind. Gippy Grewal played the deaf character, Karamjit Amol played the dumb character, and Binnu dhillon played the blind character. Hashneen Chauhan portrays the role of their sister. They all try to get their sister married to Jimmy, her love interest. Jimmy Sharma is Jimmy. Naresh Katooria wrote all the dialogues. 
Three brothers decide to keep Shamsher Singh in the dark about their ailments for their sister's sake. This Maujaan hi Maujaan will show if they can get through this. This film has a lot of great moments that will keep you entertained.
Acting & Dialogues:
Gippy Grewal Binnu Dhillon and Karamjit Anmol have all delivered flawless comedic performances. The actors were able to portray the character's infirmities with ease. The performance of the three will be remembered as one the best ever. Yograj and Nasir were the real stars of this cast. The most memorable moment in the movie was the final exchange between these characters. It showed their versatility and ability to shine on any stage.
Tanu Grewal & Hashneen Chauhan, not only dazzled us with their glamourous appearances but also made a lasting impact with their outstanding performances. Jimmy Sharma gave a great performance. It's always a pleasure to watch BN Sharma in action.
Direction
Smeep Kang will be remembered as a pioneer in the world of Punjabi Comedy Films. He consistently creates epic family entertainment. The use of location is what gives the film its striking visuals. Smeep Kang is best director of making comedy movies.
In conclusion:
This film also highlights the fact that we are all, in some way, paragons of perfection. Maujaan Hi Maujaan is a musical extravaganza that will have your feet tapping, and you singing along. This will enhance your enjoyment. Gippy Grewal Binnu Dhillon and Karamjit Anmol have a lot of talent and their onscreen chemistry is a real gem. Their impeccable timing and witty exchanges give life to their characters.
The ensemble cast remains unwavering throughout the movie. This movie is another epic family film under the direction of Smeep Kang. It's important to note that the plot can sometimes be predictable, but this is a wonderful journey.
Maujaan Hi Maujaan delivers a message to the audience through a mixture of comedy, drama, and laughter. It is highly recommended that you watch it on big screens with your family to take a break from your busy and stressful schedule.
Team Trend Punjabi gives 4.2 stars to Maujaan Hi Maujaan movie reivew. A half-star is taken off for an unorthodox introduction to the characters and an unwanted song.