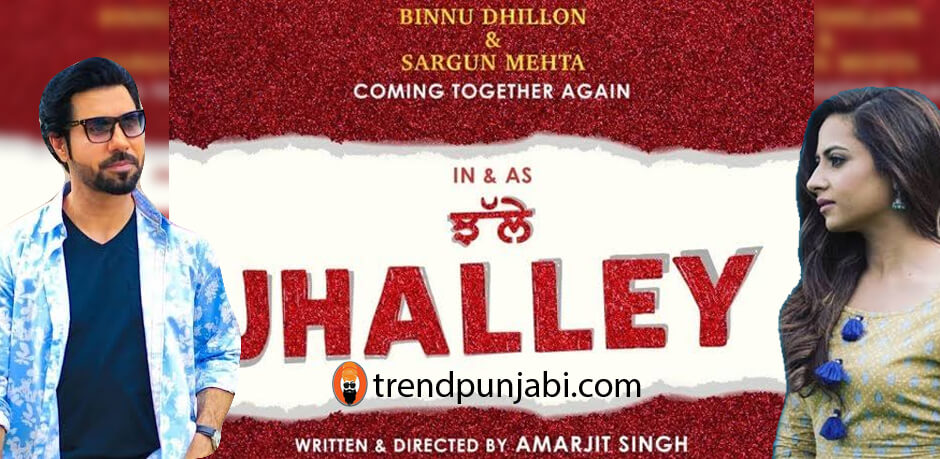 Punjabi movie Jhalle is fully packed with comedy and Drama. Binnu Dhillion and Sargun Mehta in the lead of this Jhalle Punjabi movie. This movie will be released on 15 November 2019.
Yes! You heard right we will be seeing Binnu and Sargun Mehta's movie preview again in November. The couple was well-liked by the audience in the film 'Kala Shah Kala' and the film had a very beautiful message. People have praised her on-screen chemistry and would like to see her in the next movie too, so she surprised her fans with her upcoming movie 'Alak'.
In fact, the film team is somehow directed by Amarjit Singh '. Binu Dillon Productions, together with Binhil Dhillon and Sargun Productions, are producing the film under the banner of Dreamiyata Productions.
Actress Sargun Mehta will once again share the screen with this project without illusion. The movie dialogue has written by Rakesh Dhawan. It is a memorial to the Punjabi film industry, only seven months and 2019 already.
This year saw many Punjabi films of different genres that entertained us. There were action, romance, pure comedy, and many more films that exceeded our expectations. But a movie that was a riot of laughter though was an emotionally touching Kala shah Kala which was released in February 2019.
Jhalle Movie Trailer and Cast
From the trailer itself, the movie looks quite interesting and impressive. The theme is fresh and the features are great. Sargun and Binu look great in different avatars and honestly, we can't match our eyes with Sargun. The pair rocked their chemistry with Kala Shah Kala and we are sure they will give their best again this time.
Ever since we saw Pawan Malhotra in a Punjabi movie, it's been a long time. He's coming back with a swing and we love what he's doing on screen. Apart from that we also like the character of Binder Bani who is completely clearing the mood.
Review – The Jhalle movie trailer starts with a Father wanted a boy who can be married with her daughter. The twist here is Neena (Sargun Mehta), she played an idiotic girl role in this movie. Whereas Binnu Dhillion Balu is also played an idiotic role movie. They both are looking for a life partner and somehow they found each other. They both want that if they married someone so that person should be normal because they have played a crazy role movie.
Jagga 7/51 Binnu Dhillon Punjabi Movie Announced in April 2020
The best thing about this trailer which people are loving it is that, a kind of new story which people haven't thought about it earlier.

Jhalle Trailer Credits
These all are people who have work together to make this movie in a better way. If you have a problem with these all names you may contact us. We ready to take action to solve your issues.
Directed By: Amarjit Singh Saron
Produced By: Binnu Dhillon Production, Dreamiyata Entertainment Pvt Ltd & Manish Walia Production
Starting: Binnu Dhillon, Sargun Mehta, Pavan Malhotra, Jatinder Kaur, Harby Sangha, Banninder Bunny, And Gurinder Dimmpy.
Supervisor Producer: Sumeet Aggarwal
Line Producer: Vijay Gulwani, Baljinder Singh, Sukhjit Singh
Executive Producer: Sarman Jain & Jaggi Dhuri
Story & Screenplay: Amarjit Singh Saron
Dialogues: Rakesh Dhawan
Editor: Rohit Dhiman
DOP: Ravi Kumar Sana
Lyrics: Gurnam Bhullar
Music And Composer: Diamondstar Worldwide
Art Director: Rafik Ali Kazi
Choreographer: Arvind Thakur
Production Controller: Balbir Singh
Background Score: Kevin Roy Sound
Design And Mixing: Joy Rodrigues
DI: After Studio
Costume Designer: Chetna Seth
Jhalle Punjabi Full Movie Leaked Online
Yes, you're right Jhalle Punjabi Full Movie leaked by Tamil Rockers. The entire movie is available after its release: You should know that the Punjabi movie Jhalle has leaked online and you should know that the movie was released this Friday. Well, one thing has become clear now that nothing is safe in this world as movies are leaking and downloads are available for download in different sizes.
This movie has been published and we are sure you will love the whole movie. As you may know, the Punjabi film is available on such downloadable download torrent sites like OkPunjab and Hdfriday many more sites are available nowadays.
Now, you should all know that Punjabi movie is available for everyone to download. You can easily watch online Jhalle movie, but you should know that the movie is also available on streaming sites. These covers can be easily downloaded by the audience for download However they should not be downloaded to the movie by download. We advise our readers this is a movie that should only be screened in cinemas.
Jhalle Movie Songs
Jhalle movie is going to release next week yet now Speed records music has only released 3 Punjabi songs video of the movie.
Jahlle Title Songs
Pagalpan 
Kuch Bol Ve
first and second songs have sung by Punjabi singer-actor Gurnaam Bhullar. Most of people love Jhalle title songs. This is an amazing song.
So this is full information of Punjabi Movie Jhalle Binnnu Dhillon and Sargun Mehta. We wish all the team members this movie will break the previous movie records which have created yet now.