The film Blackia 2 has managed to create a buzz among film enthusiasts ever since its announcement. With Dev Kharoud reprising his role, fans have eagerly awaited this sequel. Penned by Inderpal Singh and directed by the accomplished Navaniat Singh, the film's release date has experienced multiple changes. Initially slated for August 5th, it has now been rescheduled for September 22nd of this year.
The team recently unveiled the first look at Dev's character, which has only intensified the curiosity surrounding the film. The motion poster, showcasing elements of fire, destruction, and the symbolic burning of alcohol and money hints at a storyline revolving around the transformation from poverty to opulence.
The speculated tagline, "ਗਰੀਬ ਜੰਮਣਾਂ ਮਨਜੂਰ ਸੀ ਪਰ ਮਰਨਾ ਨਹੀਂ" (It is acceptable to be born poor but not die poor), further adds depth to the narrative. The makers have claimed that the film draws inspiration from true events, heightening the intrigue.
Dev Kharoud, known for his notable performances in films such as 'Rupinder Gandhi The Gangster…?', 'Dakuan Da Munda', and 'Kaka Ji', has established himself as a recognized actor. Navaniat Singh, the acclaimed director of films like 'Tera Mera Ki Rishta' and 'Shareek', brings his expertise to the project. Inderpal Singh, the film's writer, has previously penned scripts for films like 'DSP Dev', 'Shareek 2', and 'Zakhmi', showcasing his storytelling prowess.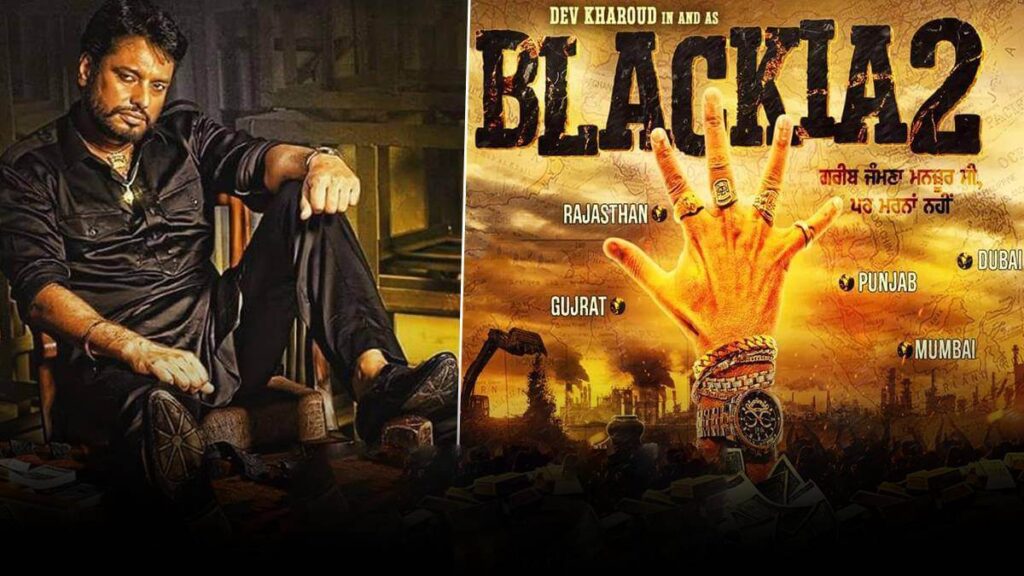 Blackia 2 Teaser Review
Speaking the teaser, it opens up with a place near the India- Pakistan border at the times of 1975 with a news announcement from Pakistan's Multan radio channel about the illegal gold smuggling initiated and followed through the Punjab border as per Indira Gandhi and speaks about the person responsible for all this namely 'Blackia' after which the camera rolls down to Dev Kharaud entrance. The teaser then shows glimpses featuring Dev Kharuad and a shot with his dialogue "It is acceptable to be born poor but not die poor".
The teaser looks quite promising with its perfect direction, color scheme, and acting. It proves to be worth waiting for the film as it is on par with our expectations. It has created buzz and has raised the levels of anticipation with its thrill and drama. The teaser has given a slight hint about the movie, more can only be learned once the trailer is released.
The superhit of Blackia has already set many expectations for Dev Kharaud and the sequel Blackia 2 and are hoping for a positive response as they usually get from Dev.
The film is helmed by Navaniat Singh whereas Vivek Ohri is the producer. The film will be released under the banner of Ohri Productions. Blackia 2 will be out in cinemas on 22 September 2023.
In case you missed to witness the teaser, then watch it here: