Sikhism originated in the Punjab area of India and Pakistan 500 years ago. Punjab the land of five rivers is one of the most historically and culturally dense areas on earth. This was the home of one of the world's earliest civilizations. Indus Valley Civilization Persians, Greeks Central Asians Mughal's the British and others have all invaded here. I meant Mughals invaded here Hinduism, Buddhism Islam, Jainism, and a handful of other faiths have all left their mark on the region.
Did the verse culture of Punjab has heavily influenced the six today. There are about 25 million six they make up about two percent of India's population. But a sixty percent of Punjab the Sikh diaspora is spread out across the world. With concentrations in the UK Canada the US East Africa Australia and Malaysia, Six interestingly enough makes up about 1.5 percent of Canada's population which is second only to India the word Sikh means Lerner six call their religions.
Sikh Holy Book
Before you understand what is Sikhism? You should know their relationship with gurus the word guru. It means that a teacher or spiritual guide the Guru teaches, and the Sikh learns the six follow the teachings of ten succeeding gurus that have shaped Sikhism
He was said to have had the laugh of an adult man here comes the bird as a teenager. He preferred to listen to Hindu Saints and Sufi Muslim preachers rather than his own parents as a Nanak. Would settle insulting pork where He worked for the government the actions of his fellow government officials. And the rich and powerful disgusted. He as they exploited ordinary working people, and he hated the caste divisions that he saw all around him one day were bathing in a river near Sultan poor Nanak had a miraculous experience.
He was swept up into God's Court where God spoke to him Nanak reappeared three days later declaring. There is no Hindu and there is no Muslim there was only God. This was a message inspired by his experience. With God one that spoke in favor of the Equality of humankind and against caste ethnic and religious divisions. Nanak would later say accept all humans. As your equals and let them be your only sect nine human gurus followed Nanak all. preaching the same message of one God and the Equality of humankind two fundamental events that shaped Sikh history was a martyrdom of two gurus the first was the fifth guru Arjun who was roasted alive by the Mughal Emperor Jahangir.
The next murder will be the ninth guru Tegh Bahadur he was beheaded. When the Mughals while attempting to defend the religious rights of Hindus. His son Guru Gobind Rai the tenth and final human guru started a new Sikh community called the Khalsa. Ended the line of human gurus by making the Guru Granth Sahib the Sikh holy book the last living guru. We'll take a closer look at both of these in a bit so with that brief history of the way. Let's take a look at the core beliefs of Sikhism.
One God the Sikh holy book the Guru Granth Sahib opening sentence is just two words it anchor there is only one God Nanak made sure. It was clear that the focus was on one. It doesn't just mean one it is literally the numeral 11 God is by far the most essential belief in Sikhism. This may not be the kind of God you're used to though 6th believe in a formless genderless. Universal God beyond description this God is all of reality and is within everything they believe no Idol.
Where Do Sikhs Worship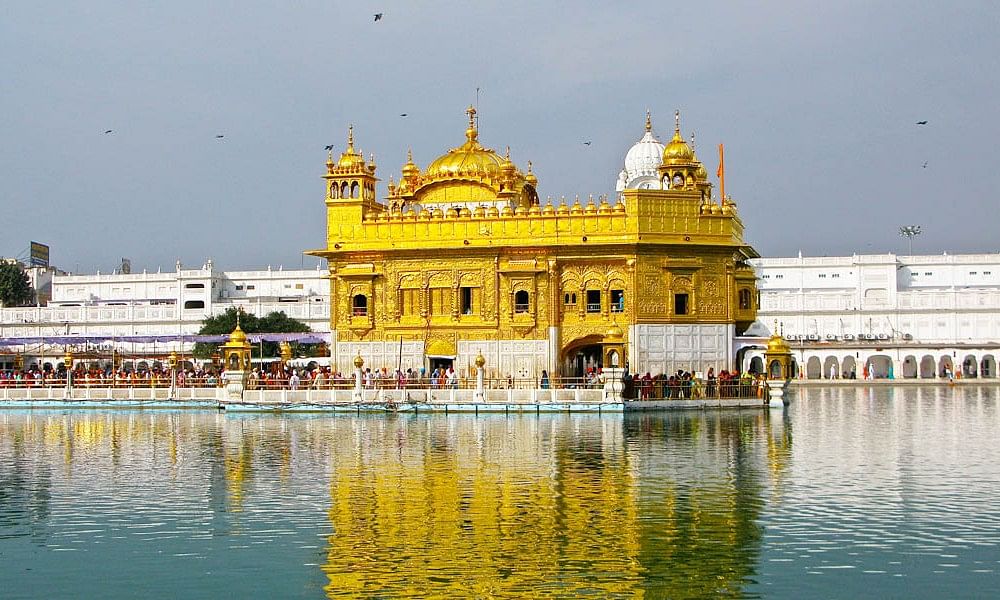 The Sikh shrine is called Gurdwara which means 'Gateway to Gurdwara'. A gurdwara is a place where the Guru Granth Sahib is kept. In Britain, Sikhs usually visit gurdwaras on Sundays. During the services, they listen to sermons based on the Guru Granth Sahib. They pray to the Guru and pray. These are called kirtan.
Anchor
The service ends at the langar (a shared meal). Everyone is welcome to share food.
What are the 5 ks of Sikhism
Sikhs maintain an outward uniform to unite (and many who have not started yet) and bind them to the beliefs of religion and remind them of their commitment to Sikh principles. There are five articles of faith in this uniform.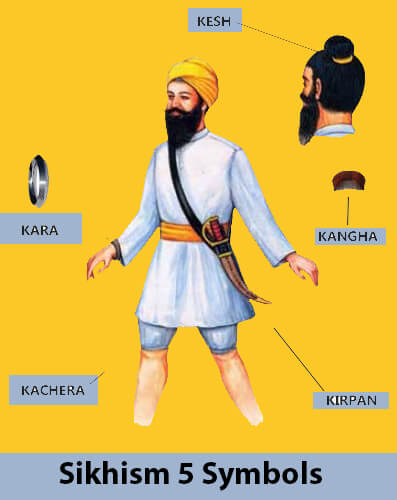 They never cut their hair which is covered by a Turban
The Kirpan (religious sword)
Kara (metal bracelet)
Kanga (comb)
Kachera (Undershorts)
They remind Sikhs of their spiritual obligations and make this commitment public. It is compulsory for Sikh men to wear a Dastar (Sikh turban) over their unshorn religiously. Hair. Sikh women are also religiously mandated to maintain balding. Tie tying The turban is both an internal and external reminder to act according to Sikh values: honesty, integrity, the pursuit of justice, and equality for all. All practicing Sikhs wear a turban as a symbol of commitment to the faith, and can, therefore, be easily identified as a Sikh.
If you have any question related to this post you or want to make changes on this may contact us on our e mail.