Looking for an online Punjabi typing test. I know you are curious about looking for your online typing speed in the Punjabi language. What matters in typing is typing speed. I know most of the students and typewriters who wants to check their typing speed for online typing tool
Punjabi Typing Test Online
This is one of the best site for testing your Punjabi typing test in Raavi Font. You can easily use this site, theis site interface is quite is easy to access able. When you visit to this site you will see a paragraph in the Punjabi language below there a box where you can do your work. I really like this site that's why I recommend this on 1st position.
I know most you thing that I am looking for Punjabi content but trend Punjabi is me telling me Hindi Typing site, so dear friends this is one of the site where you can check your typing test. I have mentioned this on 2nd position because in the beginning they will ask your name then you can start your typing.
Khilare is a great platform for those who want to learn typing in Punjabi (Unicode – Ravi font) or English. It is the easiest compared to other Punjabi fonts as it works according to international standards and the keyboard layout is specially designed for key usage. In addition, all "metrics" are on the left side of the keypad, making it easier to use and remember. Similar characters like 'd' and 'd' are different by pressing the shift key on the same keys.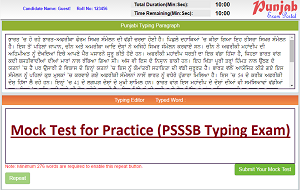 Preparing for typing exam test? then this is made for you thousand of people are using this site to check their score for exam portals like a Punjabi government department or any other department for you are preparing it. This is where all the Punjabi typed writers come to check their speed in Ravi font.
Learning Punjabi typing in Ravi font is easier than S font because all mother tongue in mother Ravi font is gathered on one side of the keyboard. If you want to learn Punjabi typing in Ravi font, this website is right for you. If you're used to typing the Asis / Joy font, don't worry. This site akhartk.com, we are offering free Ravi Typing Twitter. If you practice the following exercises daily, you will soon become proficient in Ravi fonts.