As we all know that Punjab is an affluent tradition of dance, especially in Folk Dance. You might have watched serval types of videos regarding Punjab Bhangra dance and is this the only style in Punjab culture has? Let me tell you Punjab's are known for their bravery, food, fashion, kindness, and dances. If you are searching for Punjabi Folk dance then you're in the right place. Here will be telling you about what is Punjabi Folk Dance and its style of it.
There are 2 to 3 types of dances which many people know about Punjab. The first one is Bhangra and the second most popular dance is Giddha for females. This type of dance makes people more enthusiastic and it's strongly reflected in their folk dances. These dances are complete of expressions, gestures, vocal remarks, the subtlety of motion, and unrestricted freedom. They are full of energy and reflect the dynamism of the Punjabis.
As Punjab's are lives in serval countries, Most of them live in the United States, Canada & European Countries. You might don't know there is a hike in learning for dances, especially in foreign countries.
Punjabi Folk Dance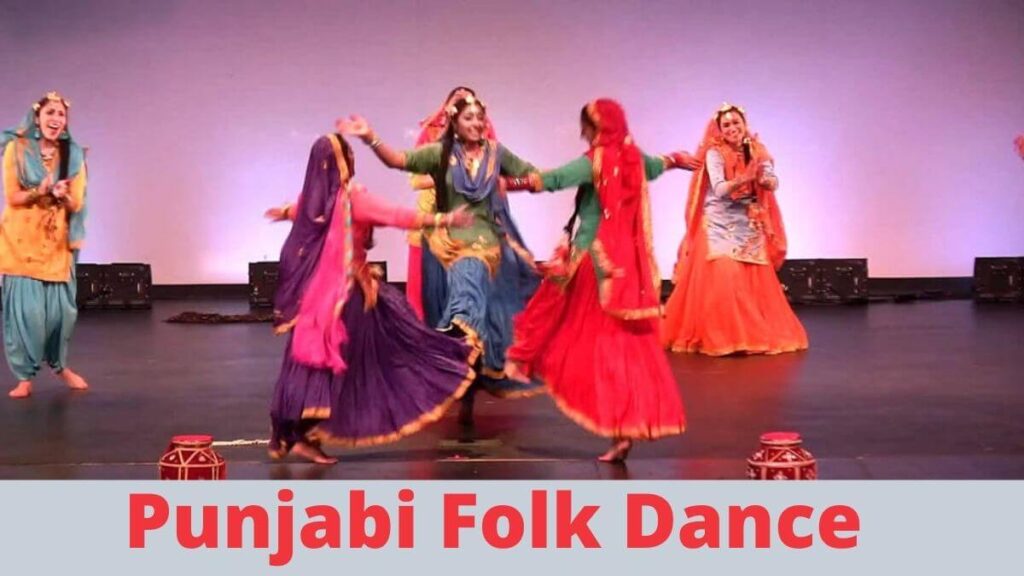 Bhangra
Bhangra is the most famous folk dance of Punjab. It portrays the livelihood and mobility of its people. The dance consists primarily of men, who perform on energy high beats of Dhols and music. Bhangra Dance was Initially introduced on the occasion of Baisakhi, the harvest festival of Punjab, Bhangra is found on the occasion of every festival.
Now it's time to describe Bhangra dress – as lungi and buttonless jacket. Dancers also use handkerchiefs of various colors. Wearing a turban is a sign of Punjabi pride. Females do this with traditional salwar-kameez and chunni, usually worn by male dancers.
Giddha
Giddha is also a popular folk dance of Punjab, performed by women of the region. It is like a bhangra dance performed by men in the state. The dancers perform verses called dialects, which are the best performances of folk poetry.
You might have watched the video of Giddha where a group of girls dances together. They usually dance in Punjabi Bolliyana and desi beats.
Jhoomer
Jhoomer Dance is known for its passion and enthusiasm. Jhoomerwas introduced in Balochistan and Multan region. The dance is slow and rhythmic. Jhumar is derived from the word "Jhoomer" which means to walk slowly.
Performances usually focus on love and other emotions. Sometimes known as the "Ecstasy Move", the dance recreates the movements of animals, plowing fields, sowing seeds, harvesting, and other such activities.
Luddi
Luddi is performed by males is a subpart of Bhangra Dance. Which is identified by the shaking of the head. The dancers place one hand behind and the other in front of the face; The movement of the body is like that of a snake.
A Head movement is a vital part of the dance. The dance outfit consists of a loose shirt and a lame. Most of the dancers wear turbans, while others wear a patka, which resembles a handkerchief tied around the forehead.
Malawi
Malawi is a popular dance style that is performed by men. It often performs in the district of Punjab names are – Bathinda, Muktsar, Ferozpur, Faridkot, Mansa, Sangrur, and Patiala. This type of folk dance also needs quite an of lot energy.
Julli
You might be thinking about what is Julli? it's a spiritual dance associated with pir and vairagya. It is usually danced in their ashrams (Kagnas). Sometimes even dancing around the Guru's tomb.
This dance is usually executed in a sitting position, with the setting of the toes. Even a single dancer can perform this dance. The dancer holds a thick stick in her hand and dances around it. The dancer usually wears a black dress and covers his head with a black scarf. At times, even dancers, like the bhangra dancers of the past, wear jingling bells around their waists.
Dhamal
Dhamal is a subtype of Punjabi Bhangra Dance where a group of people comes in a circle and dance in dhol beet which looks quite attractive. This type of folk dance also needs a lot of energy.
Jago
Jago is a popular Punjabi folk dance. This type of dance is often seen in weddings where a day before marriage people usually get together and visit different houses and dance there. A people speak Punjabi Boliyan and the rest members dance on that words. Like Bari Barsi Khatan Gya C Khat k Lihnada Patila bhangra tan sajda je nache Mudna da Jija.
Gatka
Gatka is a most historic Sikh martial art in which a group of people uses swords, sticks, and daggers. It is acknowledged that Guru Hargobind presented the art of Gatka after the martyrdom of the 5th Sikh Guru Arjan Dev Ji carry on it.
Wherever the Khalsa Sikh population is large, Gatka is played. This dance is usually performed during special festivals like Baisakhi and Gurpurab. Gatka often shows on a holy day as mentioned in previous lines.
Kikli
Kikli is acted in pairs by women who cross their arms, hold each other's hands and walk along singing folk songs. Occasionally four girls join hands to perform this dance. The girls walk around wearing colorful "scarves" on their heads.
Concuslion
This is the end of this post about Punjabi Folk dance. I hope you like this article and get to know each information about Punjab culture and dance. If you have any questions related to this you may feel free to comment us.
  That's all for Today For Latest News Updates & Trending Punjabi Updates,
Follow Us On: Instagram | Facebook | Twitter | Telegram | Google News