Punjab Government has launched a Cova E Pass registration website portal for those people. Who has urgent work to travel to in Punjab any state? The portal name is Cova Punjabi and the site is cova.punjab.gov.in. covid e pass Punjab, Punjab e pass.
Are you a resident of a Punjab state and stuck in Delhi, Mumbai, or any other state in India? During a lockdown, Don't worry Punjab government has launched a new scheme for travelers in the Punjab Cova E Pass Registration portal. You Just need to visit this portal and register yourself there to get an E Pass. But don't know, How to register on the portal? In this article, we'll help you to tell the step-by-step procedure how you can Register yourself at cova.punjab.gov.in. Let's get started without wasting time.
Punjab Cova E Pass Online Registration
Punjab Government has initiated a process E pass Registration for those who want to enter in Punjab state for some work. This step has taken because of rapidly growing cases in Delhi and Mumbai State. Without registration, you can't enter Punjab state, according to the official website or the concerned authorizations. You might be thinking about, Why this Cova website (portal) has been released just because to protect its citizens and reduce their coronavirus statistics.
Intent Of Punjab Traveller E Pass
Now, most of the people on the web are searching related to Traveller E Pass registration. What it the intent or objective for cova portal. Let me tell you the main reason behind this to help the Punjab people and make fewer covid cases a Punjab state. Also, Read – HSRP Punjab
Those People coming from Delhi NCR will have to go through a screening process before entering the state. All people will be apart from home for 14 days. Any officer who is not registered on its website will not enter the state of Punjab, as stated by the authorities concerned. If you want to enter the state of Punjab without any problems and inquiries, you will have to register yourself.
Precautions Taken After Entering Punjab E Pass Registration
After the registration completion. There are some steps (Precautions) which you need to follow After Entering Punjab state. Points are –
When you cross the Punjabi state border. The first step you need to take is that self-isolate at their homes for 14 days.
When you are isolated in your home, they will have to report their clinical status day night at 112 or via the Cova app. You can download Cova App in Google Play Store or Apple App Store.
The spokesperson announced that all appropriate information about visitors/residents coming to Punjab will be provided to the concerned authorities and police headquarters through a constant evaluation of the prepared structure.
For the safety and security of the people of Punjab, the concerned police headquarters will conduct traditional check-ups of the guests visiting their designated places through physical and special procedures.
Punjab Cova E Pass Registration Process Apply Online
There are 2 ways to register for Cova E Pass Registration apply online. The first will discus about the mobile app and second will be the web portal.
Apply by Official App
The simplest way to register yourself by the official app steps are mentioned below.
First, you need to download your mobile Cova App. You can download the Cova App by going to the play store. If you are using Apple mobile then you need to visit Apple App Store.
Next, on the app screen's home page, there is an option for Self Registration click on it.
Then, a form will pop up on your screen.
After that, you need to fill the form correctly
Finally hit the submit button.
These are steps which you need to follow while self registration in Cova App.
Apply Online by Official Website
Second way to register yourself through official website. Steps are mentioned below.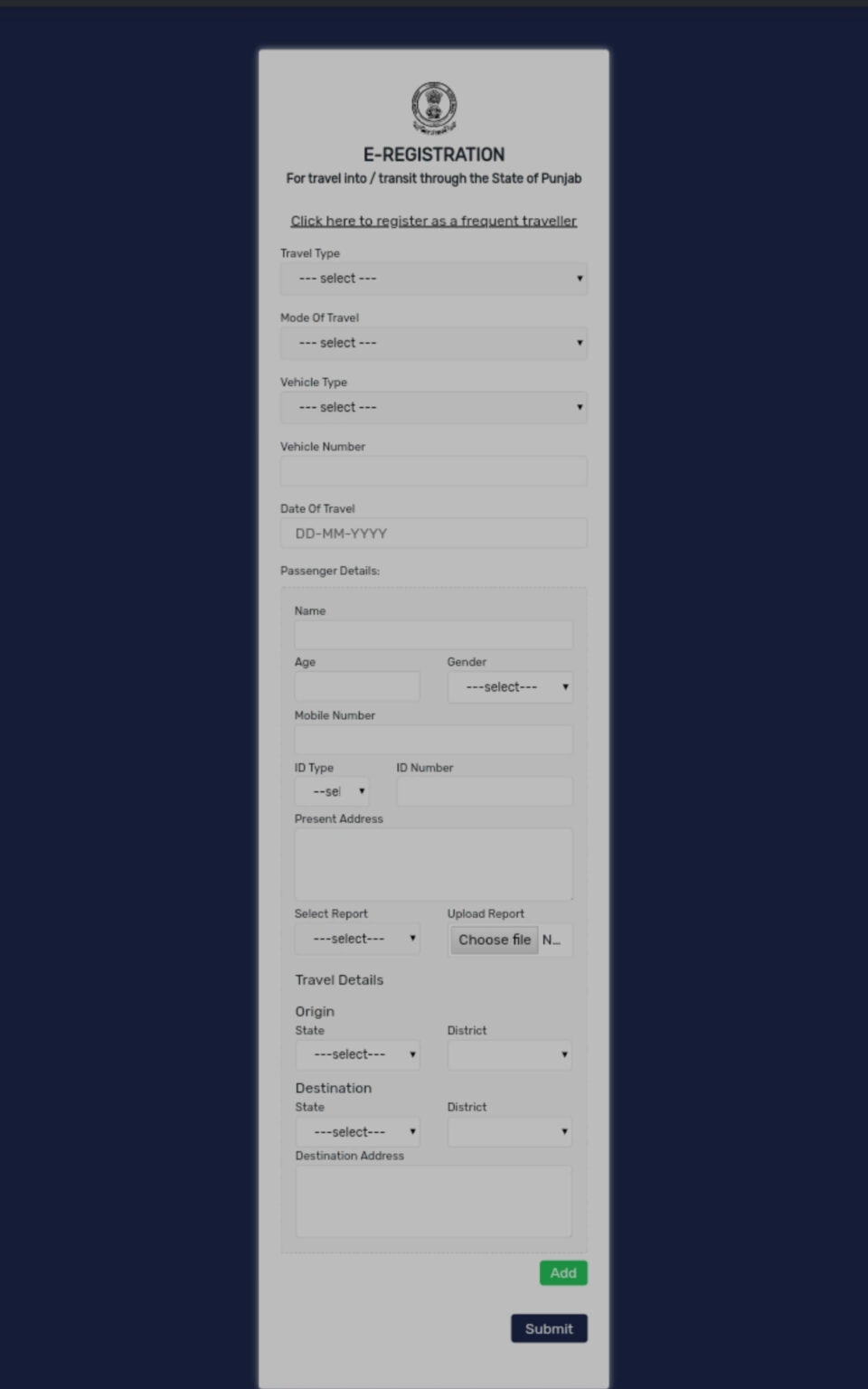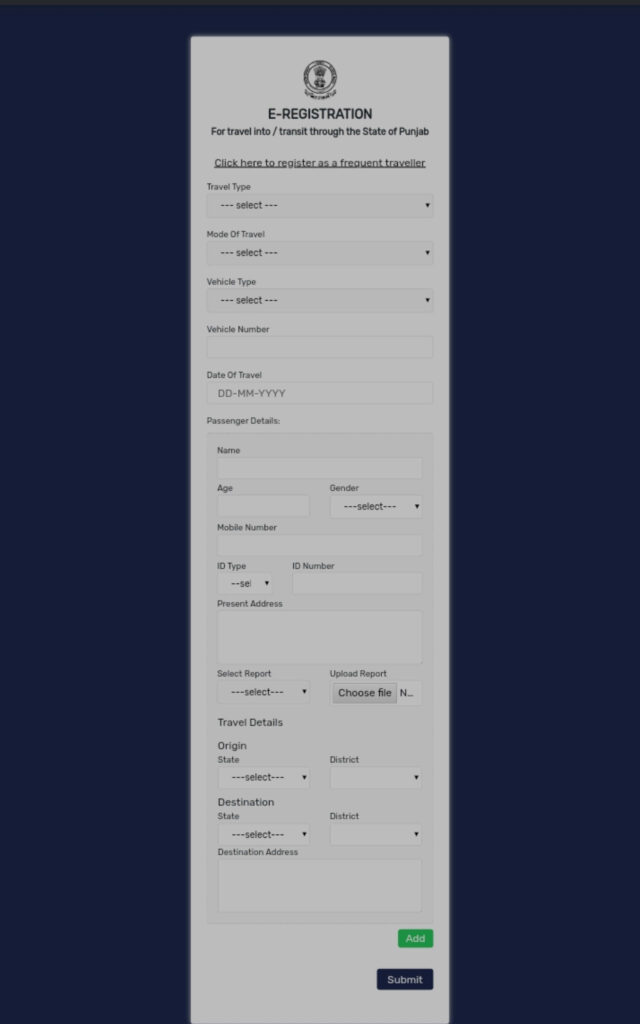 First of all you need open the the official website in your browser Cova Punjab.
When you enter the site there is a options which need click on it is that Registration.
If you are unable to find the registration button then you can click on link and open the tab.
Now it's time the fill the form correctly.
Enter the details such as-
Full Name
Travel
Type Mode Of Travel Vehicle
Number Date Of Travel Passenger
Details Mobile Number
Type ID Number
Present Address
Travel Details
Origin Destination District
Destination Address