Many Vehicle owners don't know that in recent months Punjab government has made changes in the vehicle number plate. They have launched a new type of which is called High-Security Number Plate which known as HSRP. All those people who live in Punjab have a vehicle. Now it's mandatory for them to replace vehicle plate hsrp otherwise, they need to pay a fine.
As per the reports that have come out, From April 2019, the most vehicle comes with a digital number plate. They don't require any more changes but the Punjab government thinks that more than 30,000 vehicles need to change their number plate. These plates need to apply to all the vehicles. Whether it's 2 wheeler, 3 wheeler, 4 wheeler, Light Motor Vehicles / Passenger Cars, Tractor, and rest are left.
You might be thinking why do I need to change it? Am I the only person who read this article, If you are thinking then you are wrong this time? There are thousands of people who have confirmed this is and proud to share this information with everyone, so there is no need to worry about this.
How to Apply Online HSRP in Punjab?
You might be thinking how can I apply online HSRP means High-Security Number Plate. If you know how to use the internet and are sure how to fill in the correct information which you in RC then it would be quite easier for you. If you don't know how to apply online to HSRP Punjab. Here I have mentioned the complete details of how you can apply it. Also read – Emandikaran Punjab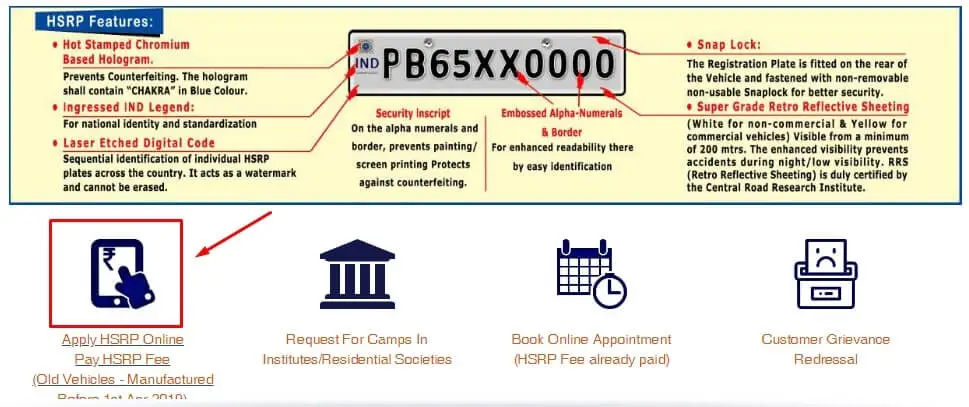 Process 1: First you need to visit the official site of the department website of the Punjab Transport Department. Which is punjabhsrp.in.
Process 2: Now opening the Punjab HSRP.in website, you need to click on the vehicle to apply HSRP online. As I have mentioned in the image. Apply for your high-security number plate on the site of Punjab Transport Department
Keep in mind: This option you need to click only then when your vehicle doesn't have High-Security Plate or vehicle manufactured post 1st April 2019.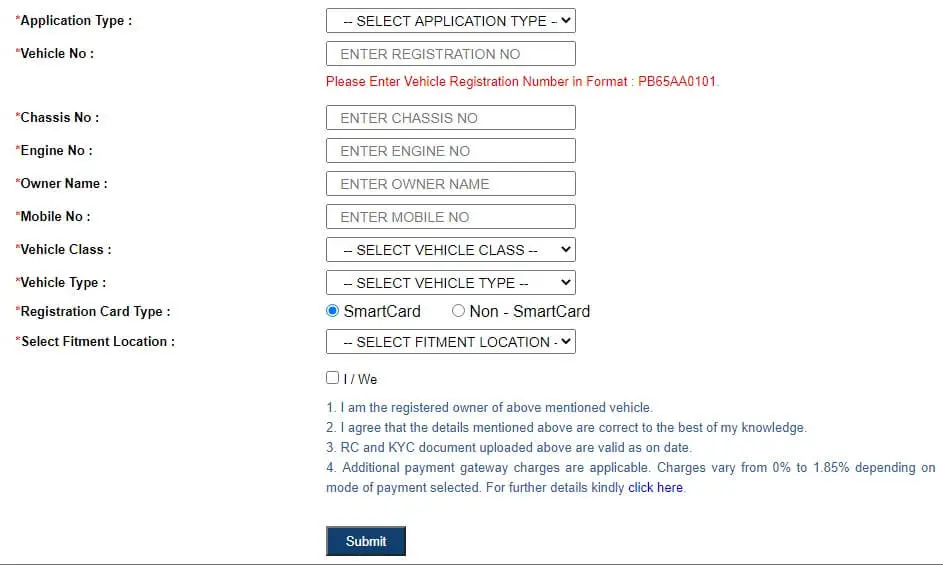 Process 3: After this, a new page will come which is look like this and you need to fill all the information correctly. Getting all the required information, the relevant documents will also have to be kept together such as vehicle registration documents, vehicle names.
Process 4: You must choose your vehicle correct information such as two-wheeler, three-wheeler, four-wheeler
Process 5: When you filled the right information, make sure you click on the checkbox then need to press the submit button. You will have to pay the fees related to your vehicle. Before you make any payment you need to know that the prices which have mentioned below there is no tax included.
Process 6: Finally you can visit the department will give you a date. You can go to the section and get a high-security number plate, you can get more information from the nearest RTO department.
Punjab HSRP Price List
This price which is mentioned below doesn't include any tax and taken from original and official site.
Class of vehicle
Type of Application
Price
(All Inclusive)
2 Wheeler
Complete HSRP Set
173.46
Damage Front Plate
117.03
Damage Rear Plate
143.16
Damage Both Plate
260.19
3 Wheeler (Passenger & Goods)
& Invalid Carriages
Complete HSRP Set
233.64
Damage Front Plate
182.42
Damage Rear Plate
208.56
Damage Both Plate
325.59
3rd Licence Plates (Stickers) Only
65.38
Light Motor Vehicles / Passenger Cars
Complete HSRP Set
513.3
Damage Front Plate
404.6
Damage Rear Plate
430.75
Damage Both Plate
769.97
3rd Licence Plates (Stickers) Only
65.38
Tractor
Complete HSRP Set
173.46
Damage Front Plate
117.03
Damage Rear Plate
143.16
Damage Both Plate
260.19
Medium Transport Commercial Vehicles /
Heavy Transport Commercial Vehicles
& Trailer Combination
Complete HSRP Set
548.7
Damage Front Plate
431.54
Damage Rear Plate
457.69
Damage Both Plate
823.85
3rd Licence Plates (Stickers) Only
65.38
How to Track Status of HRSP Punjab?
Looking for how I can check the status of Punjab HRSP site. here I have mentioned the complete detail. Just follow these steps then you will able to check your vehicle status online.

Step #1: First, you need to open your chrome bowers or any other browser. Which you use mostly after opening the browser you need to visit punjabhsrp.com/punjab/track-hsrp-status.php this link.
Step #2: After that You need to enter your Registration which you have in your RC or When you applied for HSRP online. After this you need to press on the submit button.
Step #3: Finally, You will redirect to another page then you will able to see the details. Which you have filled it, this how you can hsrp status Punjab plate.
HSRP Punjab Contact Information
Details
Contact Information
For customer related queries
customer.care@hsrppunjab.com
For any other information on HSRP
info@hsrppunjab.com
Helpline number
7888498859, 7888498853, 7743009100
Agros Impex (I) Pvt. Ltd.
Industrial Plot No – 617, Sector-82, Janta Industrial Estate,
S.A.S.Nagar (Mohali), Punjab-160055.
Is it really Mandatory Across India?
Yes, It's mandatory across India. However due to some reason some of states has not implemented yet. But according to news those states will implement soon.
What are Advantages of HSRP Punjab?
There are many advantages using High Security Number Plate HSRP Punjab :
Equal arrangement of number plates across the country.
Every vehicle has its own High-Security Plate. Which is useful for tracking and checking purposes.
Instant Verification for driver owners.
Ease use of security purposes.
Beneficial for every people who have their own vehicle, whether, it's a two-wheeler, three-wheeler, four-wheeler, commercial transport.
FAQ Frequently Asked Questions on Punjab HRSP
What is the minimum charges for applying HSRP Plate in Punjab State?
The prices are not fixed. It can be increase or decrease. Depends on the state government but as of now for 2 wheeler the minimum price is 173.46 Indian rupees without tax.
Do I really need to apply for High Security Number Plate in Punjab?
Yes, you must apply for High-Security Number Plate in Punjab otherwise in Future. You might get in trouble.