Paune 9 is a new Punjabi language Suspense and Thriller movie directed by Baljeet Noor. It stars Dheeraj Kumar, Nitu Pandher, Pali Sandhu, Pardeep Cheema, Gurjit Singh, Vikas Mehta, and Parveen Bani, as lead characters. The movie is written by Baljeet Noor and Manpal Singh gives the Background music. The movie is produced by Jaggi Bhangu and Navalpreet Rangi. Paune 9's movie has been released on 04 August 2023.
| | |
| --- | --- |
| Director | Baljeet Noor |
| Producer | Jaggi Bhangu and Navalpreet Rangi |
| Associate Director | Happee Singh |
| Written By | Baljeet Noor |
| Music | Daksh Bhagi, Off Shore, Man-E- Saund, Little Boi |
| Edited | Amanjot Singh |
| D.O.P. | Vishwanath Parjapati |
| Production Company | 𝐀𝐦𝐢𝐠𝐨𝐬 𝐌𝐨𝐭𝐢𝐨𝐧 𝐏𝐢𝐜𝐭𝐮𝐫𝐞 |
| Worldwide Distribution | PVR Distribution |
| Genres | Suspense and Thriller |
| Release Date | 04 Aug 2023 |
| Running Time | 01hr 30min |
| IMDb Rating | NA |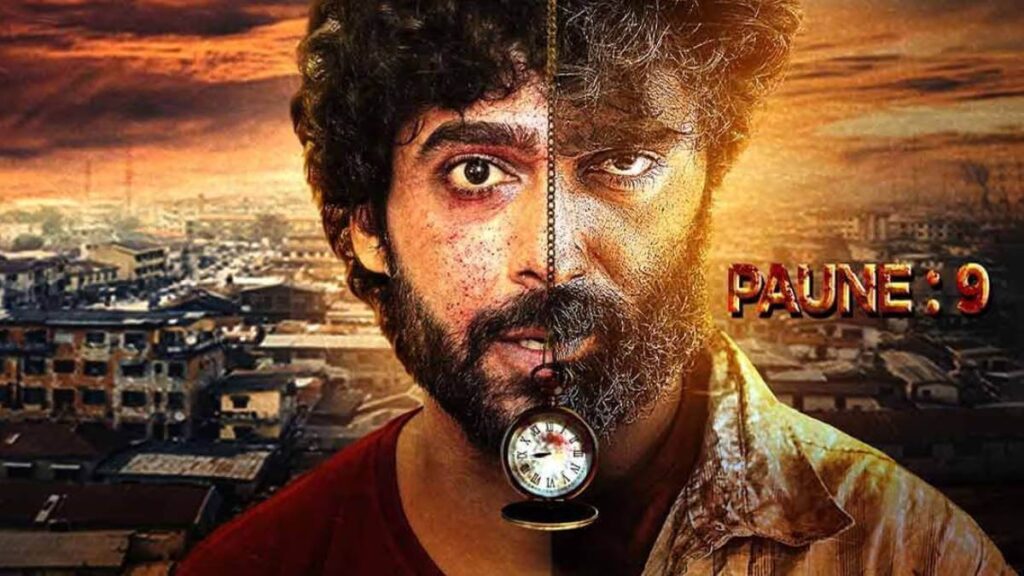 Movie Story
Atour Rahman is suffering from a mental trauma that has made him an infamous serial murderer. As Jaffar Ali takes over in this city Jantta as well as his child are obliged to begin the business of human meat. Inspector Vikramjit must unravel the dark facts before it's too for him to do so.
Cast
Dheeraj Kumar
Nitu Pandher
Pali Sandhu
Pardeep Cheema
Gurjit Singh
Vikas Mehta
Parveen Bani
Neha Pawar
Pooja Brrambat
Jeet Bhangu
Gurnavdeep Singh
Jaggi Bhangu
Rimple Dhindsa
Malkiat Malanga
Veer Samra
Rajinder Rozi
Isha Sood
Sonia Singh
Surinder Arora
Sabbi Sandhu
Vishvahs Sidhu
Tailer
Paune 9 Review
Paune 9″ is a gripping psychological thriller that explores mental trauma and crime. Atour Rahman's haunting portrayal of a notorious serial killer is masterful. With shocking twists and compelling performances, this violent thriller is a must-watch. Prepare to be captivated by its dark and intense narrative.
Book Now