The major film industries in India, whether in Bollywood or in the South, both have specialized film studios with all the facilities required to make a film. However, even after the success of Punjabi films, there was no such studio in the Punjabi film industry for a long time.
In 1978, the great Dara Singh came up with the idea of ​​a studio and built 'Dara Studio'. Did you know that it was once the largest and only film studio in North India!
How Did the Late Dara Singh Thought About?
To learn more about how the idea originated, Team Ghanta Punjab spoke to Mr. Ratan Aulakh (brother-in-law of the late Dara Singh) who has been in charge of the studio for so many years.
But how did the studio get started in Punjab? We spoke to Ratan Aulakh (brother-in-law of the late Dara Singh) who has been in charge of the studio for so many years. Aulakh shared, "During my tenure as the Chief Minister of Punjab, Giani Zail Singh and I had meetings with big producers, actors, and directors like BR Chopra, Ramanand Sagar, Prem Nath, etc.
He said that many facilities would be provided to them. If they start a studio in Punjab then facilities and subsidies. It was a verbal commitment and most directors wanted a written policy. But since there were already film studios in Mumbai (then Bombay), they did not want to invest in studios in Punjab.
Then Gyani Zail Singh Ji and Dara Ji met at a function. Giani Ji had the same discussion with Dara Ji. He promised Dara Ji the necessary facilities, subsidies, and everything for the films. Dara Ji has bought a large piece of land in Mohali.
That's why Dara Studio came into being. But it is important to note that the government was not involved. It was all Dara Singh who had invested in land and building out of his own pocket. The government's proposal to set up a film studio in the area helped. At the same time, Singh hoped that the government would promote Punjabi cinema with this place but all this was in vain.
Before acquiring land to build the studio, there were open fields all around and the film 'Dhyan Bhagat' was one of the main projects shot there. The foundation stone was laid by Surjit Kaur (Dara Singh's wife) and inaugurated by Sukhdev Singh Dhindsa.
Since then, Dara Singh has been busy with his commitments, it was Ratan Aulakh (who completed his education and entered the industry) who oversaw the construction work of the studio.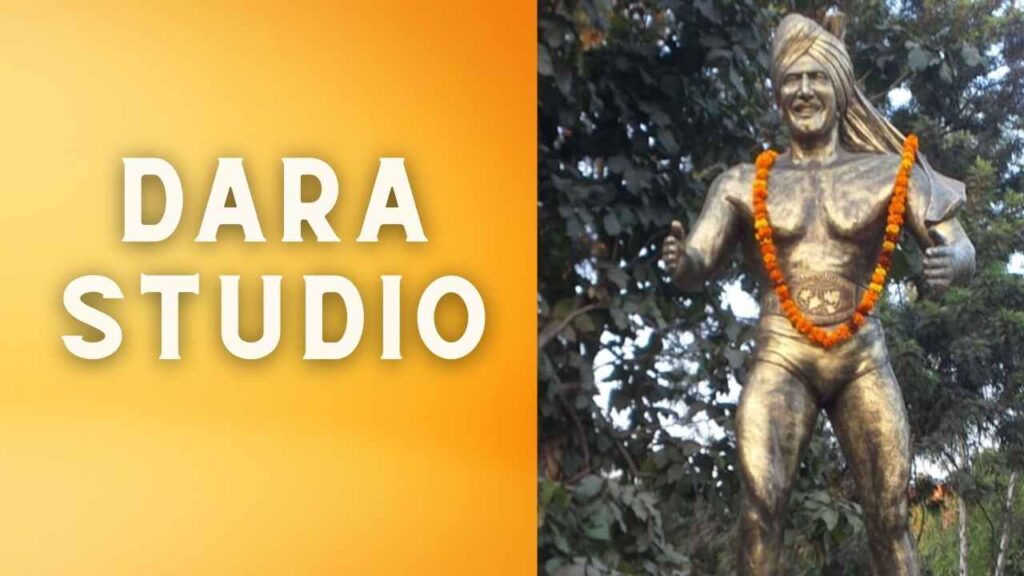 Virender and Preeti Sapru's 'Sarpanch' was the first film to be shot in the studio and Gurdas Mann and Daljit Kaur's 'Mamala Garhbhar Hai' was mostly shot in the studio.
Now just having space for shooting films clearly helps for future films. On this Aulakh made a funny reminder, "Producer Dara ji and Bhaji Bhaji will shoot in the studio for free" Aulakh laughed. He said that the team of Punjabi films and the team would shoot the films in the villages for free, in a way it was a 'habit'.
Mahan Dara Singh had no plans to set up a film studio, but when government officials told him that it would benefit the Punjabi film industry, he took the initiative to start a studio, but the government reneged on its promises.
For so many years, Dara's studio continued to operate, although the work of the film was not repeated. There are old studios in Mumbai which have been sold at a loss and due to lack of film activities.
Even Grand RK Studios has closed and sold out. But despite crossing the bottom line, Darius Studios has come out strong and is known as a milestone.