In this article, we will explore the popular Punjabi dance forms, their energy, and the role they play in preserving the cultural heritage of Punjab. If you are in the state form Punjab, a vibrant region in the northwestern part of India is known for its rich cultural heritage and colorful traditions. Among its many cultural treasures, Punjabi dance forms stand out as captivating expressions of joy, celebration, and storytelling. Let's get started without any delay.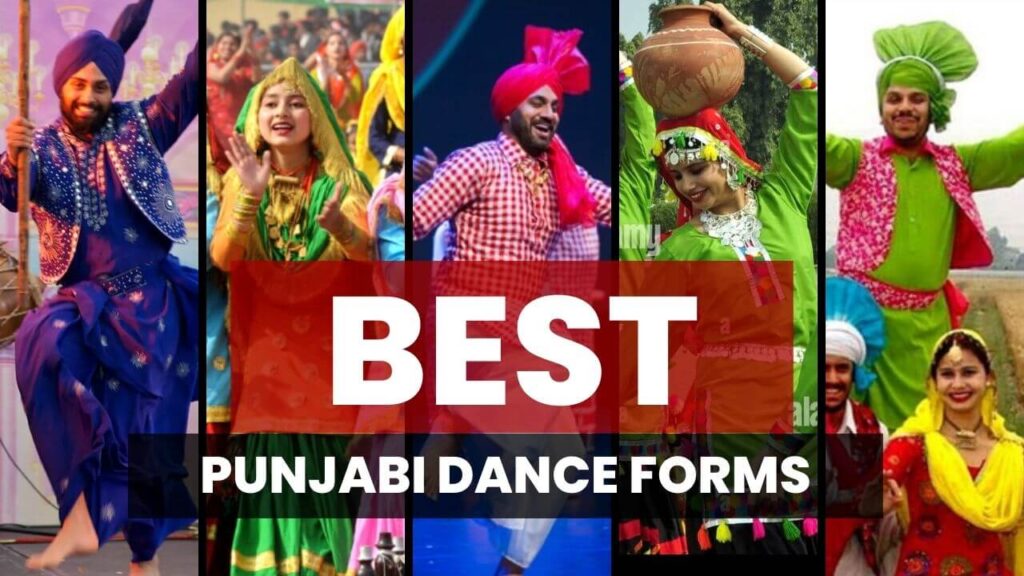 Bhangra
Bhangra is the most popular Punjabi dance form the spirit of Punjab like no other. It began as a harvest dance and has evolved into a vibrant and energetic dance style. With its spreadable beats and rhythmic footwork Punjabi songs, Bhangra has gained popularity worldwide. The dancers, dressed in colorful traditional attire, perform synchronized moves that involve vigorous jumps, twirls, and high-energy acrobatics. You may watch the video mentioned below.
Giddha
Giddha is an energetic Punjabi folk dance performed only by women. It is a celebration of womanhood and shows the joy and enthusiasm of Punjabi women. The dancers form a circle and engage in graceful movements, clapping, and singing traditional folk songs.
Jhumar
Jhumar is also a famous Punjabi dance form and it's a graceful dance form that originated in the Sandal Bar region of Punjab. Farmers traditionally perform it during harvest season to express gratitude for a bountiful yield. Jhumar is accompanied by soulful music and involves slow, swaying movements with delicate footwork
Sammi
Sammi, a Punjabi dance genre primarily performed by women, has a long history. It began as a storytelling dance style and frequently conveyed love, separation, and social themes. The dancers expertly use hand gestures, facial expressions, and body movements to communicate the emotions expressed in the songs.
Luddi
Luddi is a lively dance genre that celebrates the bravery and masculinity of Punjabi men. It began as a warrior dance and is distinguished by forceful movements, aggressive footwork, and energizing gestures.
Kikli
Kikli is an entertaining circle dance performed by young girls in Punjab. It involves linking arms and spinning in circles with synchronized steps. The dancers sing folk songs and share joyous moments as they twirl gracefully.
Dankara
Dankara is a traditional Punjabi folk dance from the Malwa region. It is a synchronized performance by men and women depicting stories from Punjabi folklore and mythology.
Dhamal
Dhamal is a resounding and thrilling Punjabi dance form associated with Sufi shrines in Punjab. It is a devotional dance performed by Sufi devotees to attain spiritual ecstasy. Dhamal is characterized by vigorous spinning, rhythmic clapping, and chanting of sacred verses.
Conclusion
I hope you like this article about Punjabi dance forms and how it performs it and we have added videos for those people who don't know about Punjab culture. If you really like this article do feel free to share on your social media platforms.
Which Punjabi dance form is the most famous?
Bhangra is the most famous Punjabi dance form globally.
Are Punjabi dance forms only performed by professionals?
No, Punjabi dance forms are not limited to professionals. Anyone can perform it.
Where can one experience Punjabi dance forms?
Punjabi dance forms can be experienced in various settings, including cultural festivals, weddings, community events, and dedicated dance performances.