Punjab Govt Holidays 2023: If you are thinking about Punjab Holidays 2023 and how many Public holidays will get next year, then you are on the right way. As the 2022 year is just going to end soon in the coming weeks. Especially next year to come Many Govt employees are interested to see the list of govt holidays in Punjab in 2023.
The new year's first holiday falls on the occasion of the Religious Festival of Guru Gobind Singh Ji's Birthday Gurpurab. It will be on Sunday, 05 January 2023.
Punjab Govt Holidays 2023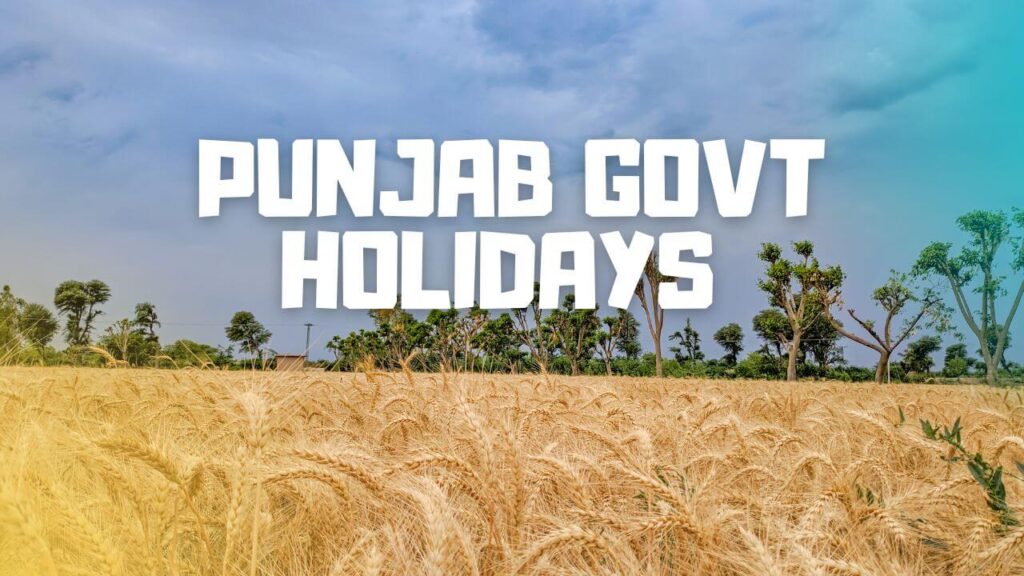 Below is a complete list of Punjab government holidays for 2023. The offices of the Punjab government will remain closed on these dates, as well as on Saturdays and Sundays.
Please share this post with your friends and family members if you found it useful.
| | | |
| --- | --- | --- |
| DATE | DAY | HOLIDAY |
| 05 Jan | Thu | Guru Gobind Singh's Birthday |
| 26 Jan | Thu | Republic Day |
| 5 Feb | Sun | Guru Ravidas Jayanti |
| 18 Feb | Sat | Maha Shivaratri |
| 8 Mar | Wed | Holi |
| 30 Mar | Thu | Ram Navami |
| 4 Apr | Tue | Mahavir Jayanti |
| 7 Apr | Fri | Good Friday |
| 14 Apr | Fri | Dr Ambedkar Jayanti |
| 14 Apr | Fri | Vaisakh |
| 22 Apr | Sat | Idul Fitr |
| 22 Apr | Sat | Maharshi Parasuram Jayanti |
| 23 May | Tue | Sri Guru Arjun Dev Ji's Martyrdom Day |
| 4 Jun | Sun | Sant Guru Kabir Jayanti |
| 29 Jun | Thu | Bakrid / Eid al Adha |
| 15 Aug | Tue | Independence Day |
| 7 Sep | Thu | Janmashtami |
| 2 Oct | Mon | Gandhi Jayanti |
| 24 Oct | Tue | Vijaya Dashami |
| 28 Oct | Sat | Maharishi Valmiki Jayanti |
| 12 Nov | Sun | Diwali |
| 27 Nov | Mon | Guru Nanak Jayanti |
| 17 Dec | Sun | Sri Guru Teg Bahadur Ji's Martyrdom Day |
| 25 Dec | Mon | Christmas Day |