There are so many Punjabis around the globe that are doing distinguished work in their respective fields, the one being talked about today in (Late) Doctor Narinder Singh Kapany, also known as the Father of Fibre Optics.
Born on 31 October 1926, in a Sikh family in Moga, Punjab, Singh did his schooling from Dehradun. While during the 1940s, when he was in school his teacher told him that light only travels in a straight line, Singh knew better, since he has experience using a box camera, he understood that light could at the least, be bent in different directions. Plus, the teacher's attitude made his will to prove the teacher wrong stronger.
Then, when he entered Imperial College London in 1952, he discovered that the West had been trying for decades to find ways to transmit light through flexible glass wires!
At Imperial College, the company worked with another scientist, Harold Hopkins, on fiber transmission for the first time in 1953 to achieve optimal image transmission through a large bundle of optical fibers.
Earlier, optical fibers were first attempted for image transmission, but Hopkins & Co.'s technology allowed better image quality than previously thought.
In addition, the almost simultaneous development of optical cladding (with the help of which light can be confined to the core of a fiber) by Dutch scientist Bram van Heel helped to usher in a new field of fiber optics.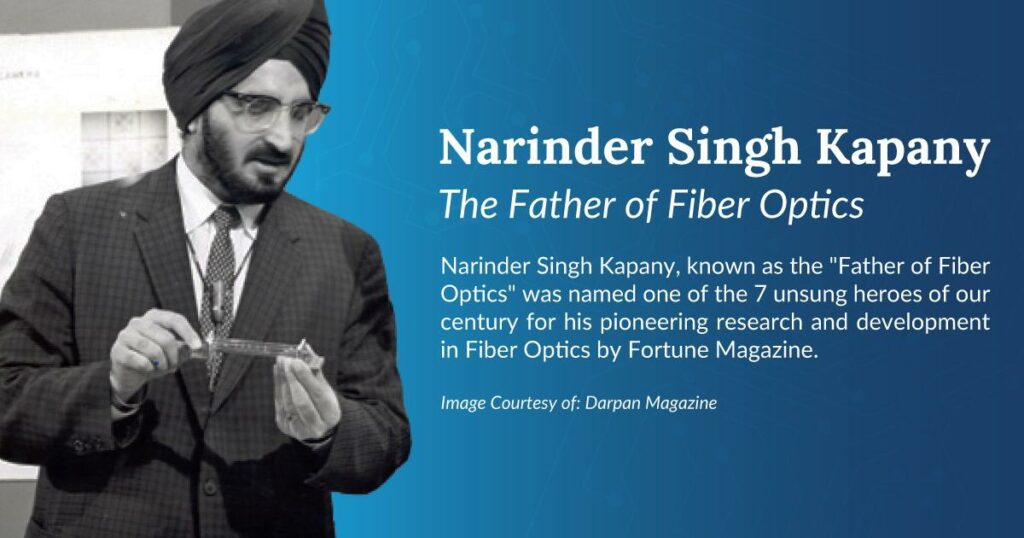 The company coined the term "fiber optics" in a 1960 article in "Scientific American", wrote the first book about the new field, and was a leading researcher, author and speaker in the new field.
Narinder Singh Kapany is thus credited with creating fiber optics and is also called the "Father of Fiber Optics". For those who don't know, fiber optics are flexible, transparent fibers made by pulling glass (silica) or plastic in diameters a little thicker than a human hair.
Optical fiber is commonly used as a means of transmitting light. Not only that, many also claimed that he should have been the actual recipient of the 2009 Nobel Prize in Physics for his work in fiber optics.
In addition, Fortune Magazine named him one of the seven 'Unsung Heroes of the 20th Century' for his Nobel Prize-winning invention. Narinder Singh Kapany was posthumously awarded the Padma Vibhushan, India's second-highest civilian award, in 2021.
Narendra S. Kapany, who died in December 2020 at the age of 94, worked harder than ever in the field of optics to prioritize optical research in government and corporate budgets. Dr. Kapani is survived by two children and four grandchildren.
  For Latest News Updates & Trending Punjabi Updates,
Follow Us On: Instagram | Facebook | Twitter | Telegram | Google News